Job fair in Kangra from Sept 27
The Confederation of Indian Industry (CII), and the Baddi, Barotiwala, Nalagarh Industries Association (BBNIA) will jointly organise a job fair at Polytechnic College in Kangra on September 27 and 28. Various government departments, including industries, labour, employment and technical education would also support the fair.
Countering drug menace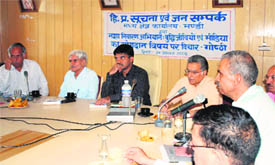 At a time when tobacco and liquor companies and the drug mafia are finding new ways to target India's large youth population to promote their products, intellectuals in the state call for mass social drug awareness campaigns to fight the menace. More and more people are coming in to join hands with promoters and supporters of anti-drug campaigns to make the youth, including school and college students, aware about drug addiction.
A debate titled "NNA: role of media and intellectuals" in progress in Mandi

Dairy farming turns milky
Milk production in the state has taken a beating in the absence of proper support from the successive governments even as dairy farming is an economic breather profession for the people in the hilly areas.
Vignettes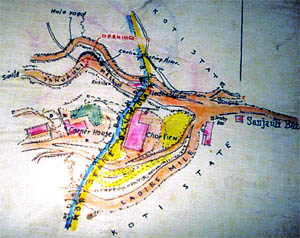 Sanjauli A dangerous huddle
Birth to burial, cradle to cremation, Sanjauli is the only self-contained colony in Shimla. It has the toddlers' joints, crèches and nurseries, schools and colleges, private and public hospitals, IGMC, Indus and Walker being rebuilt, modern malls, shops, coffee and cyber cafes, police post, church at CJM, temples, including ancient Dhingu Devi, gurudwara, mosques, Tibetan monastery of Geluk-pa (Yellow Hat) sect and of course, a crematorium and a burial ground. It was abode to dimpled Preity Zinta and India's consul to Mashad professor Abdul Majid Khan.
A hospital stands and waits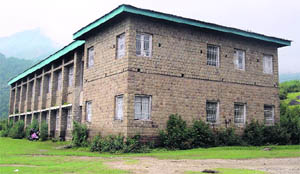 A 10-bedded hospital building built 20 years ago is yet to be made operational even as healthcare infrastructure in the state is in peril. Constructed by Khaniara panchayat, the building is lying in a state of neglect due to the failure of the government to put it to use.

The 10-bed hospital building constructed by Khaniara panchayat near Dharamsala. — Photo by the writer

Shimla diary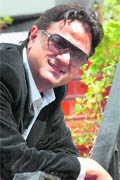 High charges may cost MC dear
Successive governments in the state have been talking about promoting film tourism but much lacks when it comes to extension of the facilities and infrastructure creation. Film producer and director Harry Baweja has a similar tale to tell. Having shot his film "Main Aisa Hi Hooon" starring Ajay Devgan and Sushmita Sen in Shimla, he is all praise for the beautiful locales in the state but has a complaint against the local municipal corporation.


Film producer Harry Baweja

Doll museum to come up in Shimla


It is the spirit to keep the memory of his loving daughter alive that inspired Kapur V. Bhan to set up Charu International Doll and Natural History Museum in Shimla. With very few places of tourist interest in Shimla, the coming up of a doll and natural history museum would be a major gain for the town. Be it art, culture, music, theatre, dance or varied folk art forms, Bhan, a Ghaziabad-based artist, is at the forefront.

Kapur V. Bhan

The root cause: Age-old law
According to a British era rule, farmers are not allowed to cut existing trees on their own land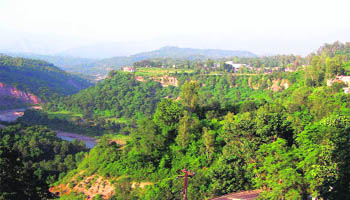 Farmers of Kangra, Hamirpur and Bangana tehsil in Una have been running from pillar to post seeking abolishment of a 90-year-old British law that prohibits them to cut trees on their own land. The villagers, who want ownership rights of the trees grown on their private land, are now pinning hopes on the Dhumal government that had already evinced interest in abolishing the law.
Scheme for poor patients
The launching of Dr Ambedkar medical aid fund scheme by the Dr Ambedkar Foundation, New Delhi, has given a new hope to hundreds of poor patients belonging to the Scheduled Castes.