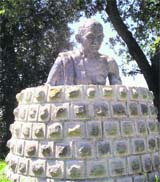 vignettes
Fredda Brilliant's Gandhi in Shimla
The man of the millennium was nominated for Nobel Peace Prize in1937, 1938, 1939, 1947, and, finally, a few days before he was murdered in January 1948, but was never awarded the Nobel. The omission was publicly regretted by later members of the Nobel Committee because the faux pas had carted off quite a bit of sheen from the prize. The UN, however, recognised that Gandhi not only played a major role in India achieving its independence but also taught a philosophy of search for truth through non-violence which has universal applicability and so declared Mahatma's birthday as "International Day of Non-Violence" in 2007.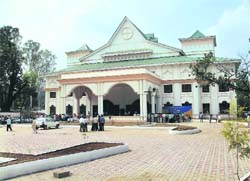 Sobha Singh auditorium in Kangra opened recently by Chief Minister P.K. Dhumal. Photo: Ashok Raina
Giving freedom fighters their due
Great warriors who did every thing in their capacity to see India free from the clutches of the British rulers are living desolated lives in free India. But Vivekananda Kendra, a spiritually oriented service mission with its headquarters at Kanayakumari, has started tracing them to bring them before the people of the country.
shimla diary
'Make Hindi denigration an offence'
Chairperson of the Rashtriya Hindi Academy Swadesh Bharati is in favour of taking stern action against those who openly oppose Hindi and asserts that denigrating the rashtra bhasha should be made a cognizable offence. "The manner in which Maharashtra Nirman Sena (MNS) is using the regional language to divide the people is a dangerous trend that has to be dealt with effectively," said Bharati.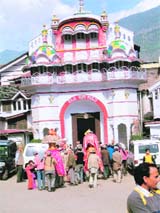 Congregation of the divine
The celebration of Dussehra in Kullu on the conclusion of the festival in the plains is a mystery for which no historic background is available
Located in Himachal Pradesh, the Himalayan jewel, Kullu, was once known as Kulanthpitha, 'the end of the habitable world'. Beyond rise the forbidding heights of the greater Himalaya, and by the banks of the shining Beas, lay the fabled Silver Valley or the valley of the living gods.
Kul devta on the move
The Devta's come from various corners of the Kullu valley as remote as places like Shakti, Nirmund and insides of the Seraj Valley. One of the things that they refuse to do is to ride on vehicles.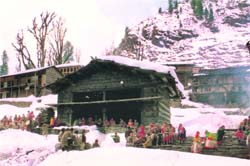 Film on Malana gets raw deal
Maker of the award winning documentary "In search of Malana", the only film made on the village famous for the world's oldest surviving democratic system, unique culture and autonomous administration, is a disappointed man. His plan to get the film screened during the international Dussehra festival has gone haywire because of the callous attitude of the Kullu administration. He desperately wanted the people to see his work, which has become a vital document on the life in the village, a major portion of which was devoured by fire last winter.