Villagers oppose Kasauli Development Plan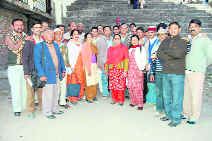 Kumarhatti, December 2
Villagers of 12 panchayats in the Kasauli Planning Area (KPA) have criticised the proposed Kasauli Development Plan 2021 by forming Gramin Adhikar Surkasha Samiti.
Representatives of 12 panchayats up in arms against the Kasauli Development Plan.
vignettes
Arya Samaj Mandir's English connection
Edward Buck writes in 1904 in "Simla - Past and Present", "the first place of Roman Catholic worship erected in Simla was the little Chapel still existing on the west end of the Lower Bazaar".
shimla diary
Fine arts school to come up in Shimla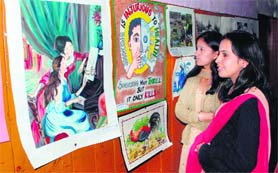 Encouraged by the huge response to the paining competition to nurture budding artistic talent, the Charu Castle Foundation has decided to set up a school of fine arts in the "queen of hills". Over 1,800 boys and girls from Himachal Pradesh and Chandigarh participated in the competition organised in association with the Nehru Painting Group (NPG).
A painting exhibition at Kalibari in Shimla
Preserving ancient Chowrasi temples of Bharmour
Bharmour, December 2
Bharmour still retains its ancient temples and monuments of its one-time glory, some of which date back to the 17th century. The temples proves that even at that time the state possessed resources.
Private transporters skip rural routes
Commuters inconvenienced
Solan, December 2
With a little check on the private transporters, who skip rural routes in the evenings, the daily commuters have been put to inconvenience. The transport department has remained a mute spectator to the woes of the commoners.
Poor education standards
Shiksha abhiyan to the rescue
Banikhet, December 2
The state government through its schools is providing free education. Mostly children from semi-urban and rural backgrounds take admissions in the institutions. But the standard of education being provided there is not up to the mark.
Rogi Kalyan Samitis under a cloud
Funds collected for patients' welfare not accounted for
Palampur, December 2
All is not well in the state health department. The functioning of Rogi Kalyan Samitis constituted by the state government in various hospitals have come under severe criticism as crores collected by these samitis are either not properly utilised or remain unaccounted.
Hamirpur to host national rural sports championships
Hamirpur, December 2
While few sportspersons from Hamirpur have made their mark in the state and national games during the past few years, the district would also come on the sports map of the country as it hosts the national rural women sports next month.
Health centre faces staff shortage
Kumarhatti, December 2
The Community Health Centre (CHC) at Dharampur, 4 km from here, is facing a severe staff shortage. The centre was upgraded from a Primary Health Centre (PHC) in 2001, but till date the infrastructure has not been upgraded.