An infusion of herbs
Jagriti has come a long way as its products made from all locally grown raw material and aptly named "Mountain Bounties" are making an impact in the market, especially amongst foreigners
Shimla, November 25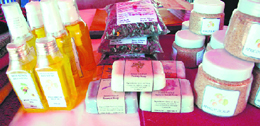 It was to save the wild apricot trees from being axed to make way for more lucrative apple trees in Kullu-Manali that Jagriti, a community-based organisation engaged in making herbal and organically produced goods, came into being.

Various products manufactured by Jagriti. Tribune photo: Amit Sharma

Migrant labour prone to contagious diseases
Kumarhatti, November 25
The health department from time to time puts up camps in the area to monitor the situation since the vast population of migrant labourers here are more prone to various contagious diseases.
Poor road connectivity mars Chopal's development
Chopal, November 25
More than 36 panchayats in the Chopal constituency in Shimla are without road connectivity, which makes it one of the most neglected areas.
Exchange programme a good learning experience
Shimla, November 25
The unique international student exchange programme initiated by the local Auckland House School three years ago is turning out to be a good learning experience for the students who get an opportunity to visit Germany.
shimla diary
Parking hassles trouble commuters
Shimla, November 25
Even as the problem of insufficient parking space continues to plague the state capital, it is the overcharging by contractors that has become a pain for the locals as well as the tourists.



Sacred knot


BSP, a party pooper?
Poor LPG supply hits rural Dharamsala
Dharamsala, November 25
The erratic and short supply of LPG has hit life in the rural areas of this district and virtually brought its residents on the roads.
Kangra market panel a shambles
Development works relating to farmers and the construction of roads in the villages have come to a grinding halt because of the delay in the nomination of the members
Kangra, November 25
The Kangra district marketing committee is a shambles because the state government has failed to nominate 10 ex-officio members of the 16- man committee for the last nearly one year.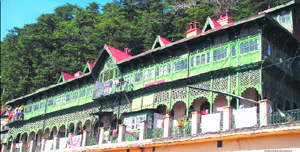 vignettes
A bit of Nabha in Shimla
Raja Bhagwan Singh of Nabha
had died issueless. The British
accepted the claim of Hira Singh
and installed him as ruler of the
Nabha state in 1871.



Tailpiece

Ranis' Residence