Fiscal Correction Plan
World Bank wary of pay revision
Shimla, October 14
The World Bank is concerned about the impact of the impending pay revision of employees on the financial health of the fiscally stressed state, which will put to naught the plan to pull it out of the debt trap under which the bank has advanced a development policy loan of Rs 900 crore.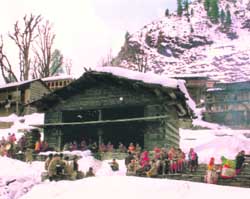 A Lost Utopia?
Malana, October 14
Malana, a fiercely independent relic of an old-order civilisation that claims descent from the Greeks, has historically remained aloof and defiant, tough to access through the centuries; it now faces several challenges. There may be no roads in the village but the video parlours have made inroads into its age-old heritage. The dwellings too are changing and in fact, the village is going through a slow process of socio-cultural degradation and if this continues the day may not be far off when it will lose its unique identity.
Development eludes Parwanoo
Solan, October 14
With little progress towards the upgrading of infrastructure, including roads, sewage, water, etc, the industrial town of Parwanoo continues to lag behind in†development despite attracting investment worth several crores after the 2003 central industrial package.


Multiplicity of agencies blamed

The work on the construction of bridges and roads in Parwanoo industrial area is progressing at a snailís pace making things difficult for the industry.

Environmentalist to be honoured in US
Kumarhatti, October 14
Payson Stevens, adviser to My Himachal, an NGO, will be honored by the Project Concern International (PCI) for his contribution to the cause of environment while working with the NGO. The function will be held on November 8 in San Diego, California.
Payson Stevens
shimla diary
All they need is blessings


Shimla, October 14
People from all streams of life queued up to seek the blessings of the shankaracharya of Kanchi Kamkoti Peeth, Jayendra Saraswati, during his two day visit to the town, but it was politicians who outnumbered all others.
Jayendra Saraswati
Politics hit students

Tourists are back