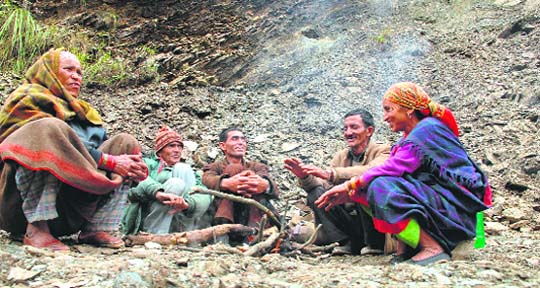 Enjoying the warmth: People sit around a bonfire at Bir in Kangra. Tribune Photo: Amit Sharma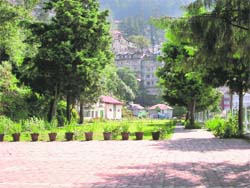 vignettes
Shimla's ladies' only park
A park for women and children was opened in Shimla on July 6, 1937, by Rajkumari Amrit Kaur, who later was an MP from Mandi and the first health minister of independent India, but the plaque showing its opening was installed on November 15, 1938. Why this delay? The foremost reason is that it occurred to then senior vice-president of the municipal committee (MC) Lala Bihari Lal to have a plaque after it was inaugurated.
Sundernagar's green cover in peril
Cement plant wants 467 hectare forestland for mining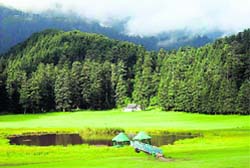 Mandi, October 27
The controversial Sundernagar cement plant is posing a threat to Bandli wildlife sanctuary and Tarambri nature reserve as over 11,663 trees are expected to be axed in over 467 hectare area, which has been earmarked for mining. This has sent shivers down the spine of nature lovers and local residents, who have been up in arms against the cement plant since day one.
New terminusproject hangs fire
Chaos reigns at Mandi bus stand
Mandi, October 27
The interstate bus terminus managed by the Himachal Roadways Transport Corporation (HRTC) here continues to be in pathetic condition for the past one decade. This despite the fact that Mandi is a gateway to the tourist destination of Kulu-Manali.
Kufri set to regain lost glory
Environmental experts are preparing an action plan to develop the tiny hamlet as a model site for eco-tourism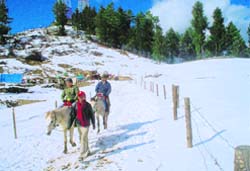 Shimla, October 27
It could once again be back to the good old days for Kufri that is all set to get a facelift through a community-based eco-tourism project. The hill station with its lush green forests and pristine surroundings was once a favourite destination for tourists as a famous ski resort. An action plan is being prepared with the help of environmental experts to take corrective measures so that the tiny hamlet known worldwide for its ski-slopes can be developed as a model site for eco-tourism keeping in view environmental safeguards.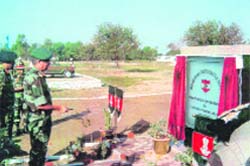 Battle school at YolLalit Mohan
Dharamsala, October 27
The Rising Star Corps has started a battle school at its headquarters in Yol this week. The school was inaugurated by Lt Gen Vinay Sharma, GOC, Rising Star Corps.


Lt Gen Vinay Sharma, GOC, Rising Star Corps, inaugurates a battle school at Yol cantonment.
A Tribune photograph
Back to basics
Organic farming has worked wonders for this farmer


Shimla, October 27
Like his fellow fruit growers he was struggling to properly manage his sprawling orchard because of the rising cost of inputs and poor returns. That was almost a decade ago. Today, his apple sells at Rs 80 per kg and cherry at Rs 300 per kg, almost double the normal rates. The fruits he produces are special and he has emerged as a beacon for other farmers who look to him for guidance.
Gopal Mehta
Patwari still a lordly figure
Hamirpur, October 27
Though attitude of almost every government official has changed in the state with the passage of time, patwaris in the state still behave in lordly manner.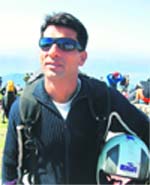 Pak paraglider on a mission
Kangra, October 27
Gul Baz Khan, a resident of Islamabad in Pakistan and an admirer of famous Indian film stars, has a dream to meet Dileep Kumar and wants a special permission from the Government of India in this regard. This was the message that was passed on to the Central government by Gul's son Farman Ahmad, who is a SAARC games gold medalist and a paragliding pilot, while talking to The Tribune here before he left for Pakistan after attending a week-long Himalayan Paragliding Pre World Cup 2008 at Billing as guest pilot.
SHIMLA DIARY
Lok Sabha polls Seniors reluctant to enter fray


Shimla, October 27


It is the fear of being pushed into contesting the Lok Sabha elections, which is stalking senior leaders in the two main political parties in the state, the Congress and BJP. Stalwarts in the two main parties, including former Chief Minister Virbhadra Singh and Rajya Sabha MP Shanta Kumar, despite being the strongest candidates who could ensure the victory of the party are reluctant to take the plunge.


| | |
| --- | --- |
| Shanta Kumar | Virbhadra Singh |
Sweet but not sugary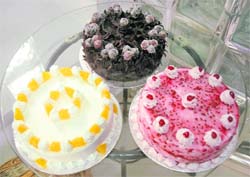 Manpriya Khurana The sight of a chocolate cake dripping with layers and layers of brown liquid, topped with cherries. One look. Another look in the opposite direction! It's tempting. Shh…hey, you can control. Think of that mini dress. That size zero figure. There you go, rushing, at the supersonic speed. Before, the vows and the promises can be reminded, you've already bitten into a big chunk of the forbidden thing.
A not-too-sugary cake at Monica Pies & Puddings.Photos: Parvesh Chuahan
All's well here, says Palampur SMO
Palampur, October 27
Reacting to a news item appeared in these columns pertaining to poor health services in Palampur, Dr H.K. Vasisth, senior medical officer, in charge of civil hospital here, has clarified that no post of specialist is vacant at present. The government has filled all posts and now the number of doctors posted in this hospital has gone up to 15, out of which 14 are specialists.
Here hunters get hunted
Hamirpur, October 14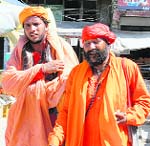 While all pythons are placed under schedule I of the Indian Wildlife Protection Act, 1972, and any cruelty towards them attracts legal action, including imprisonment, but nobody seem to be concerned as a large number of snake charmers and nomads capture and kill pythons perennially in every part of the state.



Snake charmers with a python roam around freely in Hamirpur. Photo by the writer
Tinsel town calling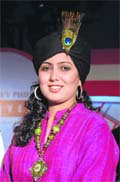 Singer Harshdeep to act in a Punjabi film
Shimla, October 27
With her charming looks and melodious voice, offers for not just playback singing but to act in films were bound to happen. There is good news for Harshdeep fans as the stunning singer will soon be seen in a Punjabi film. She will play the lead role in a Punjabi film named "Ek Onkar" to be directed by Jagmeet Bal. "The story of the movie where a girl from Canada comes to India to make it big in the world of films and music is quite close to my own journey, so I agreed to do the film," says Harshdeep, who was here last week to perform in a show.
Blood unit project turns pale
Nurpur, October 27
The proposal of setting up blood storage centre at local civil hospital has been gathering dust for the past two years. This despite the fact that a well-furnished building is available for the centre, but has been waiting for its commissioning for long thanks to the apathy of the state health department.
Neglect haunts cemeteries
Chamba, October 27
Almost all cemeteries in Chamba are in a bad shape. Nobody bothers about the unsanitary conditions prevalent there, as dirty material, human excreta and other effluents could be witnessed around these sites.