Awareness drive against child labour
Mandi, November 18
More than three lakh schoolchildren in the state will get a peep into the evil of child labour.
All-women Industrial Unit
Labour laws a hurdle
Shimla, November 18
The desire of chairman of the Anand Group of Industries D.C. Anand to have an all-woman industrial manufacturing unit could not be fulfilled as archaic labour laws of the state have proved to be a major hurdle.
shimla diary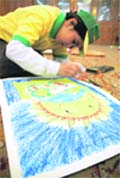 Painting competition on Children's Day
Shimla, November 18 The public sector Satluj Jal Vidyut Nigam (SJVN) organised a state-level painting competition with attractive prize money in an initiative to create awareness about energy conservation among schoolchildren.The competition was held on Children's day in collaboration with the Bureau of Energy Efficiency (BEE). Ramandeep Sohal of the local DAV school, Lakkar Bazar, bagged the first prize of Rs 10,000 while Ankit Khachi of Kay Dee Public School, Jubbal, came second. The third prize went to Pushpadeep of the local Dayanad Public School. Consolation prizes were also given to 10 other students.
vignettes
Sati practices in Mandi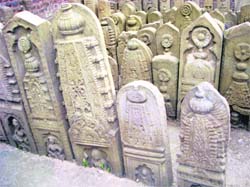 "One morning my munshi came and told me that a sati (woman) who was going to burn herself on the funeral pile of her husband was about to pass by the garden gate. I hastened to obtain a sight of her. She was dressed in her gayest attire… She walked forward with hurried and faltering steps like that of a person about to faint… Her countenance had assumed a ghastly appearance, which was partly owing to internal agitation and partly, so I was informed, to the effects of opium and bhang and other narcotics with which she had been drugged to render her less awake to the misery of her situation.
A boon for Palampur residents
Palampur, November 18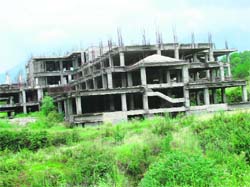 The Vivekanand Medical College and Research Institute (VMRT) being set up here in collaboration with Jaya Parkash Group of industries will prove to be a boon for residents of the lower region of the state when completed.





The half-completed hospital and medical college building of the VMRT at Palampur. A Tribune photograph.
Kullu roads in bad shape
Kullu, November 18
Roads in the town are in bad shape and the municipal council is indifferent.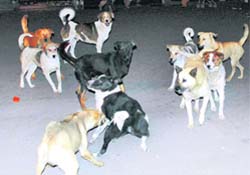 Stray dog menace unchecked
Dharamsala, November 18
Stray dogs have killed four persons in the district in the last one month. The deaths have put a question mark on the health system of the state that is being boasted as the best in country by ruling party leaders.




Stray dogs have made life miserable in Dharamsala. Tribune photo: Amit Sharma
Children's Day with a difference
Hamirpur, November 18
This year's Children's Day celebrations here were different as the press club organised a programme for the physically and mentally challenged children.