Modern women prefer keeping maiden name post-marriage
Bathinda, December 14
Times are changing and so is the thinking pattern of individuals. Gone are the days when Indians used to follow the age-old guidelines of how to live life while managing a balancing act with societal norms. Today, people are more liberal, freedom-oriented and away from conservatism.
Photojournalists works on display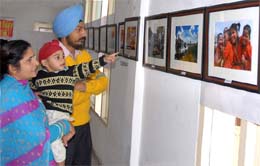 Bathinda, December 14
Admirers of photography had an opportunity of seeing excellent works of photojournalists of the Bathinda Photographers Association at the Teachers' Home here today. About 100 prints displayed in the exhibition were in different categories of pictorial and photojournalism.
Visitors to the photo exhibition organised by the Bathinda Photographers Association at the Teachers' Home on Sunday. Tribune photo: Malkiat Singh
Govt doctor booked for forgery
Moga, December 14
A case of corruption and forgery was registered against a government doctor by the local police for allegedly giving advantage to a drug peddler in seeking anticipatory bail by tampering with the official records of the hospital. However, he was yet to be arrested.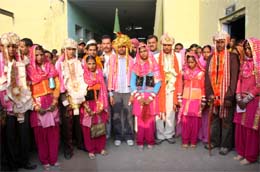 A mass marriage was organised by the Makbara Baba Nikka Sheikh Committee in Bathinda on Sunday. Tribune photo: Kulbir Beera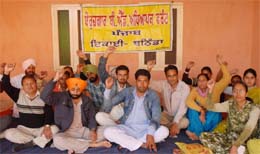 Members of the local unit of the Unemployed B.Ed Teachers' Front holding a meeting at Teachers' Home in Bathinda on Sunday, in support of thier several demands, including jobs. Tribune photo: Malkiat Singh
Stones for link roads laid
Abohar, December 14
Balluana MLA Gurtej Singh Ghuriana said on Sunday that Asia's largest open wildlife sanctuary in this sub-division would be brought on the world tourism map. He will take it up with the chief minister next week.
Sukhbir on stone laying spree in Mansa
Mansa, December 14
SAD president Sukhbir Singh Badal would lay foundation stones for many development work in Mansa and Budhlada blocks on December 16 and 17.
Traders seek rationalisation of VAT
Fazilka, December 14
Members of Beopar Mandal, Fazilka, led by its president Ashok Kumar Gulbadhar met the chief parliamentary secretary (excise and taxation department) Jagdish Sahni during his visit here today.
Cong MLA flays state govt
Abohar, December 14
The SAD-BJP alliance has deliberately made the Rashtriya Swasathya Beema Yojna a failure as it was scripted by the UPA-led Central government, alleged local legislator Sunil Jakhar.
Guddu Gudiya Bal Udyan
Kids park inaugurated in BSF area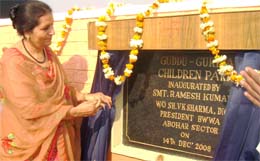 Abohar, December 14
Children in attractive attire rushed towards entertaining equipment, women spontaneously performed giddha as Ramesh Kumar Sharma, chairperson of the BSF Wives Welfare Association, inaugurated the 'Guddu Gudiya Bal Udyan' on Sunday morning at the sector headquarters of the Border Security Force (BSF) here.
Chairperson of BSF Wives Welfare Association inaugurating children's park at BSF sector headquarters in Abohar on Sunday. A Tribune photograph
Rs 10 lakh given to panchayats
Mansa, December 14
SAD general secretary Balwinder Singh Bhundar laid foundation stones of link roads and village streets at several villages, including Gahle, Graghna and Khokhar Kalan. Addressing a gathering at village Gahle, he said that the SAD-BJP government had been undertaking development work in the villages and cities. For this purpose, grants were being given to the panchayats and municipal councils, he added.
Week-long NSS camp begins at DGCE
Bathinda, December 14
A seven-day NSS camp was organised by Dasmesh Girls College of Education, Badal. On the first day, a free medical check-up camp was organised. It was inaugurated by chief guest Rajat Aggarwal, DC Muktsar. For this, valuable services were rendered by Rotary Club, Bathinda and eminent specialists.
Youth 'commits' suicide
Mansa, December 14
A youth allegedly committed suicide by jumping before a train today in the morning. Railway police found the mutilated body on the Mansa- Bathinda railway tracks at Gate 206 at around 9 am. In-charge of the railway police Jaswinder Singh said that the body of nearly 25-year-old male was found on the railway track. His identity could not be ascertained, he added.