US toughens stance, says Mumbai attacks no ordinary event
Islamabad, December 21
In a tough message to Pakistan, the US has said it was not satisfied with what Islamabad had done so far for eradicating terrorism from its soil after the Mumbai attack, not an ordinary event that could be "swept under the carpet".
One killed, 6 hurt as Shimla-Kalka train derails
Solan, December 21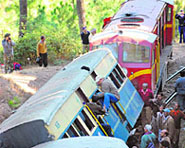 Surinder Singh (24) was killed and six passengers injured when the Shimla-bound Holiday Special train derailed near Sukhi Jori in Dharampur this morning.
The engine and coaches of the Kalka-Shimla train that derailed at Sanawar, near Dharampur, in Solan district on Sunday morning. Tribune photo: Amit Sharma

Heavy fog hits air, rail traffic
New Delhi, December 21
Heavy fog today hit air and train traffic with about 20 flights from IGI airport here being delayed and two cancelled while over 25 Delhi-bound trains running late by varying periods up to even 11 hours.