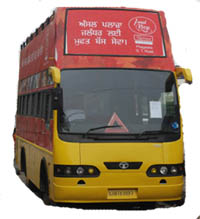 Economic Meltdown
Malls lure customers with freebies
Ansal Plaza has started a free double-decker bus ride for the customers from the city
Jalandhar, December 23
The economic slowdown has adversely affected the business of several shopping mall owners, commercial building constructors and even those who had taken shops here recently leaving them in a dilemma to present offers for attracting customers. With very few buyers in the ongoing peak season, almost all shopkeepers in malls have already started giving discount offers and free gift schemes to lure customers.
Miss World Punjaban contest
Art of using charkha, madhani played a role in pageant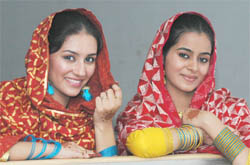 Jalandhar, December 23
The run-up to the grand finale of the Miss World Punjaban contest held last Friday in Jalandhar was not easy. The contestants, most of whom had been leading an urban life since their childhood, said they had to go back to the villages and learn traditional, rural household chores, including weaving on charkha, using wooden churner (madhani) and making chapattis on earthen chulha.
Title winner Mohit Inder Bawa (right) and Gurpreet Khera. Tribune photo: Pawan Sharma

Rare Lasik surgery performed
Jalandhar, December 23
The first-ever live surgery in this region of the state with blade-free Lasik lazer was performed on the valedictory day of the 12th annual conference of the Punjab Opthalmologic Society here yesterday.
Civil hospital in the dumps
Staff crunch, non-functional machines hit services
Jalandhar, December 23
A major provider of healthcare to the middle and lower strata of society, the civil hospital is more in news for its crumbling infrastructure than for the services provided by it these days. None else but the patients are the lone sufferers this time. A visit to the major departments of this institute reveals irregularities even in some of the basic services.
Learn from legend Ramanujan
"He is the most romantic figure in the recent history of mathematics, a man whose career seems full of paradoxes and contractions, who defies almost all canons by which we are accustomed to judge one another and about whom all of us probably agree in one judgement only, that he was in some sense, a very great mathematician."
Young World
City students qualify for science congress
Jalandhar, December 23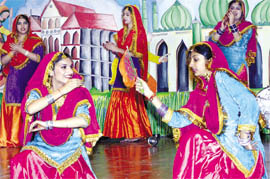 Students of Lawrence International School, Jalandhar, have qualified for the National Children Science Congress to be held in Nagaland in late this month. A team of five students from the school, Nehpreet Kaur, Rahul Sachdev, Kritika Khera, Priyanka and Jaskaran Singh, presented a project on the topic "Changes of food habits and obesity" at the state level Children Science Congress-2008 organised by the Punjab State Council for Science and Technology at PAU, Ludhiana.
Students of Innocent Hearts School perform a Punjabi folk dance during the annual function in Jalandhar on Tuesday. Photo: Suryakant

HMV college wins shooting trophy
Jalandhar, December 23
The teams of HMV College, Jalandhar, won the overall trophies in air pistol and air rifle championships held at Guru Nanak Dev University. In air pistol tourney, Parveen Rani got the gold medal with 364 points followed by Natinder Kaur who bagged the silver medal with 359 points. Jeanie Katyal won the bronze medal by scoring 353 points.
Award for sports goods firm
Jalandhar, December 23
A leading sports goods manufacturing unit been awarded the "Niryat Shree" for its quality goods that it has been exporting around the world. President of India Pratibha Patil honoured Ashok Katyal, proprietor of Sakay Traders, manufacturers and exporters of sports goods, with the award at a function organised by the Federation of Indian Export Organisations in Vigyan Bhavan, New Delhi, recently.
'Parho Punjab' seminars conclude
Jalandhar, December 23
The second phase of "Parho Punjab" seminars for the teachers under the Sarv Shiksha Abhiyan (SSA) concluded here on December 20. As many as 3,129 teachers from 19 blocks of the district participated in the seminars.