No shortcut for success, says flute maestro
Jalandhar, December 25
Pandit Ranendranath Majumdar, a name synonymous to flute or the traditional bansuri, needs no introduction.

Ronu Majumdar


Little wonders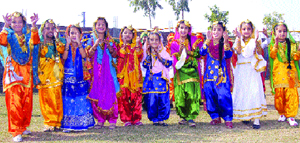 Tiny tots of CJS School rehearse a Punjabi
folk dance before their annual function in
Jalandhar. Photo: Suryakant
Implement Chadha panel report: College principals
Jalandhar, December 25
The Federation of College Principals of Punjab and Chandigarh today regretted that the Centre had not shown due concern for the most radical and positive recommendations made by the G.K. Chadha committee and the UGC with respect to financial support, uniform and simultaneous implementation of revised pay scales from the single revised date.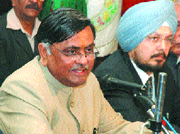 Govt to open NIIFT centre in city
Jalandhar, December 25
As a New Year gift for the people of the region,
the government has decided to open a centre of
the Northern India Institute of Fashion Technology
(NIIFT) here.

Local bodies minister Manoranjan Kalia addresses mediapersons in Jalandhar. A Tribune photograph

Couple commits suicide
Jalandhar, December 25
A middle-aged couple of the Janta Nagar area committed suicide leaving behind one-and-a-half-year-old son.
And the beat goes on
Jalandhar, December 25
The general conception in our society is that art flows through genes, from generation to generation.
Muscles of iron and nerves of steel
"Let not the barks of puppies frighten you, no, not even the thunderbolt of heaven… What India wants is a new electric fire to stir up fresh vigour in the national veins."
Miscreants stab woman to death
Jalandhar, December 25
The murder of an elderly woman in the Kishanpura area has once again raised doubts on the security of senior citizens living alone in and around the city.
Christmas gift for city art lovers
Jalandhar, December 25
There couldn't be a better Christmas present for city art buffs. In a move that might signify better times for Virsa Vihar, where things did not seem to be going pretty well at least until last week, the authorities started classes in vocal music, yoga and dance here today.
SBI not cooperating, allege aged pensioners
Jalandhar, December 25
Notwithstanding the additional orders of the Union pension ministry issued on September 1, 2008, to all the pension disbursing authorities in the country, the aged pensioners here rue the apathy of the authorities concerned.
Homoeopathy receiving 'step-motherly treatment'
Jalandhar, December 25
Homoeopathy has been receiving a step-motherly treatment at the hands of the government forcing the system to be content with a secondary place, with the result that homoeopathy, like ayurveda, has been a loser as compared to allopathy, claimed Dr Surmeet Singh Mavi, president of the Hahnemannian Education and Research Forum, Jalandhar.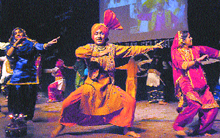 Young World
Placement drive: 10 get Open Access
Jalandhar, December 25
As many as 10 final year B.Tech students
of DAV Institute of Engineering and Technology
(DAVIET), Jalandhar, secured placements in
Open Access Technology International (OATI),
a US-based MNC.

Students of Apeejay School perform during a function in Jalandhar. A Tribune photograph