Rain beneficial to Rabi crops: Expert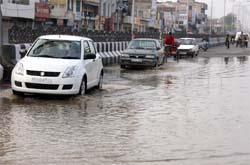 Bathinda, January 18
The weather's windfall for farmers continued on Sunday as the region experienced around 6.8 mm rain till 8.30 am. Yesterday, the zone had also witnessed around 18.3 mm rainfall. The precipitation accompanied with thunderclaps started at around 3 am to provide the much-needed relief to the farmers, who were anxious due to increase in temperature

Rain water accumulates on the newly built Bathinda-Goniana road following a mild shower on Sunday morning. Tribune photo: Kulbir Beera
Shoppers hop around as sale season sets in
Bathinda, January 18
The most-awaited sale season has arrived and customers are busy picking up woollen stock for the next winters. Famous brands like Nike, Reebok, Rage, Monte Carlo, Lee and more are offering huge discounts. Some are offering even up to 65 per cent off on fresh stock also. Woollen jackets, matching caps and mufflers to keep one warm and long knitted coats are most preferred by customers.
Markfed plans selling potatoes to EU countries
Bathinda, January 18
The Punjab State Cooperative Supply and Marketing Federation (Markfed), a nodal agency for agriculture export, plans to export 10,000 tonnes of potatoes to European countries, days after it received the Euro Gap Certification for current potato crop spread over about 2,000 acres.
District Boxing Championship Day II
Sandeep knocks out Nand Lal in semis

Bathinda, January 18
In the semi-finals of the 45 to 48 kg category, local pugilist Sandeep Singh knocked down Nand Lal, also a local lad, on the second day of the being played at the indoor hall of the Sports Stadium here today. In another semi-final of 38 to 40 kg category, local pugilist Lokesh Bains beat Harjit Pal of Talwandi Sabo.
A match in progress at the District Boxing Championship being held in Bathinda on Sunday. Tribune photo: Kulbir Beera
BDA's plot allotment policy comes under scanner
Bathinda, January 18
With residents of the area levelling allegations, the policy being adopted by the Bathinda Development Authority (BDA) for the 25-yard plot allotment in Shaheed Beant Singh Nagar has now come under the scanner.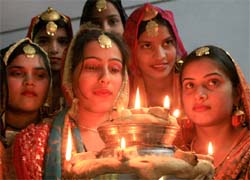 Students prepare for a cultural programme to be held during the annual prize distribution function of the Indian Educational Public School held at the Teachers' Home in Bathinda on Sunday. Tribune photo: Kulbir Beera
Sukhbir's ascent hailed
Bathinda, January 18
The Brahmin Pratinidhi Sabha, Punjab, today welcomed the move to induct the SAD chief, Sukhbir Singh Badal, as deputy chief minister of the state.
Rain cheers wheat growers
Moga, January 18
The farmers of Punjab, particularly, in the Malwa belt are delighted over the widespread rainfall in the region during the past 24 hours, which the farm experts say is good for the wheat crop.

Vagaries of weather
Hailstorm damages crops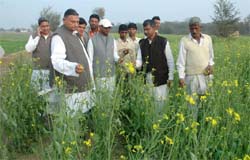 Hanumangarh/Sriganganagar/Abohar, January 18
Nearly 81 villages in Hanumangarh district were affected by the hailstorm that lashed the region on Friday, district collector Naveen Jain has reported to the state government. However, there was no loss of life, he added.

Legislator Vinod Kumar visits some fields which were affected by hailstorm in Hanumangarh district. Photo by writer
Development council meeting
Steps against encroachments
Ferozepur, January 18
To identify and remove encroachments on the government lands and property, committees have been constituted at sub-divisional levels under the chairmanship of local SDM in various sub-divisions who will periodically review the progress and take legal action against the offenders, said Megh Raj deputy commissioner while presiding over the meeting of district development council here on Saturday.
Abohar Club to house DSP office
Abohar, January 18
The office of the Deputy Superintendent of Police will start functioning at the Abohar Club here from January 19.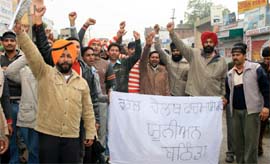 To get their services regularised, members of the Rural Health Pharmacists' Union raise slogans against the state government in Bathinda on Sunday. Earlier, they held a protest march through the main markets in the city. A Tribune photograph
Khayali takes up welfare projects
Sriganganagar/Abohar, January 18
Khayali Saharan, a stand-up comedian, recently preferred to travel all the way from Mumbai to celebrate 27th birthday in his native village18-SPD near Sriganganagar.
Dera followers resent admn move
Sriganganagar/Abohar, January 18
The Youth Welfare Federation (YWF) has strongly protested against they what they call "indecent" manner by which the Dera Sacha Sauda chief Gurmeet Ram Rahim Singh was asked to leave his native village Gurusar Modia on Friday.
Students to get health cover
Hanumangarh/Abohar, January 18
All the students in the government schools in Hanumangarh town and junction area would be covered by the Health Guarantee Scheme (HGS) during the academic session 2009-10, DC Naveen Jain said.
Ex-chief of MC among five convicted in corruption case
Mansa, January 18
The Additional District and Sessions Judge, Mansa, awarded one year sentence and Rs 3,000 fine to five persons, including former president of Municipal Council, Mansa, on Saturday, in a corruption case. According to sources, the Vigilance Bureau had registered an FIR after conducting an inquiry against five persons in January 1998.