Out of the box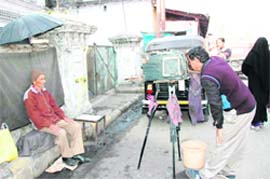 A man gets himself clicked by a photographer using the old box camera at Darshan Lal Chowk in Dehradun. Tribune photo:Vinod Pundir
Negi plays the pied piper
Dehradun, February 2
In the era of the gramophone, as a child he grew up listening to KL Saigalís songs in the distant Myanmar. The imprint stayed on and he became the first Garhwali singer to have cut a Garhwali songs album in 1949 for Young India Gramophone.
Rajasthan Emporium ventures into clothing
Dehradun, February 2
The state of Rajasthan has always attracted tourists for its historical monuments, rich food and vibrant culture. With flourishing tourism industry, Rajasthan has been actively involved in serving delicious food and creating ethnic clothes, which have acclaimed fame worldwide.
Framed moments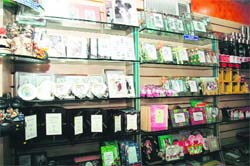 Dehradun, February 2
The best way to keep your memorable moments in front of your eyes always is to capture them and then showcase them in beautiful photo frames. Beautiful pictures placed in a corner of your home not only decorates your house but also spreads the warmth of relationships all over.
Photo frames on display at a gallery in Dehradun. Tribune Photo: Vinod Pundir