Simran wins news-reading contest
Tribune News Service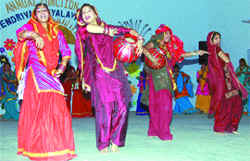 Students of Kendriya Vidyalaya No. 1 perform a dance item during their annual function.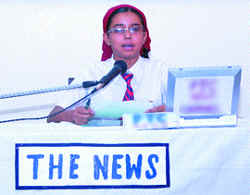 A student of CJS Public School during the news-reading contest in Jalandhar on Thursday. Photos: Suryakant

Jalandhar, April 30
A news reading contest was organised for students in CJS Public School here on Thursday. As many as 54 students participated in the competition. Commercial breaks were also flashed. Simran of class VII, Nikita of class VII, Jashandeep of class VIII bagged the first prizes in the English, Hindi and Punjabi news reading categories, respectively. The winners were given prizes and certificates.
Trade fair
Eklavya Library in association with Scholastic Publications organised book exhibition from April 27 to 29 on the school premises. As many as 5,000 books ranging from fiction to non-fiction, autobiographies, current affairs, general knowledge, novels, books on self-development, yoga and osho were displayed. The exhibition was attended by academicians, students and parents. Attraction of the exhibition was best-selling books of authors like Sidney Sheldon, Chetan Bhagat, Anurag Mathur and Salman Rushdie.
Annual function
Kendriya Vidyalaya-I, Jalandhar cantonment, organised its annual prize distribution function on Thursday. The president of the vidyalaya management committee, Col P.S. Gota, was the chief guest. Students presented a cultural programme, which included solo dance, group dance and songs and skit. Students were given prizes for the performances in different fields.
Farewell party
A farewell party, Jashan-e-Rukhsat, was organised at St Soldier Management and Technical Institute, Kapurthala Road. Juniors students of the MBA, BBA and BCA courses arranged the party for their seniors. Students also presented a choreography to give the message to avoid drugs and save life.
Goodbye wishes
The DAV Institute of Engineering and Technology (DAVIET) organised farewell parties for the final-year engineering students. Students of ECE and EE joined to organise "Aasta la vista" which was followed by "Sham-e-Ruksat" by MBA and MCA students, while DESPEDIDA' 09- A warm good bye! was a combined event of IT and CSE. Singers like Inderjeet Nikku and Sufi Barkat Sidhu added charm to the event. Students presented a cultural programme in which MBA students presented a documentary on "child labour", while civil and mechanical students recalled the contribution of Shaheed Bhagat Singh and urged the students to work for creating their "Sapno ka Bharat". Secretary of DAV Institutions, Sholapur (Maharashtra), Dr Satish Kapoor, was the chief guest.
Freshers' party
State Public School, Jalandhar cantonment, organised a welcome party for the pre-primary students. Tiny tots had a gala time enjoying the party.