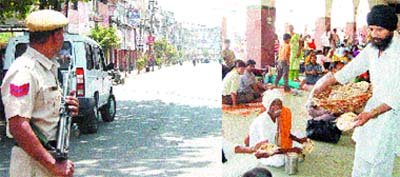 Vienna backlash: A policeman stands guard in the Hall Gate area and (right) a volunteer serves langar to the stranded passengers at the railway station in Amritsar. Photos: Vishal Kumar
Ban burning of garbage, leaves: AVM
Amritsar, May 26
The Amritsar Vikas Manch (AVM) has urged the Deputy Commissioner and the Commissioner of the Municipal Corporation to impose a ban on the burning of garbage and residue of trees.

Ahluwalia among 'Canada's top 25 immigrants'
Amritsar, May 26
Dr Barinder Singh Ahluwalia, who hails from Amritsar, has been adjudged as one of the 25 "most-respected Canadian immigrants" as per a nationwide survey conducted in three stages. Of the 25, three are Sikhs, including Ahluwalia. An e-mail received by Harbans Lal said Ahluwalia went to Canada in 1986 with a medical degree from Guru Nanak


Dr Barinder Singh Ahluwalia
School in 'locality of widows' starts evening shift
Amritsar, May 26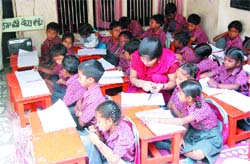 The Citizen Forum Vidya Mandir, running in the ramshackle locality of Maqboolpura, has started evening shift to provide free education to more than 900 wards of drug addicts. The school, which was opened about 10 years ago by Brij Bedi, husband of super cop Kiran Bedi, and Master Ajit Singh, a government teacher, could only accommodate 400 students at a time.
Students study in their class at Citizen Forum Vidhya Mandir School, Maqboolpura. Photo: Vishal Kumar
Centenary celebrations: Lumbsden Club has grand plans
Amritsar, May 26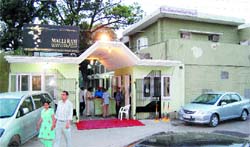 The newly installed management of Lumbsden Club has spruced up the century old club, which plans to hold grand celebrations on the occasion. Club president Arun Verma said the management has grand plans for the centenary celebrations. "We have decided to hold a function to honour its old members and release a souvenir with an emphasis on history of the club," he added.
A view of Lumbsden Club in Amritsar. Photo: Vishal Kumar
Attacks on foreign visitors cause of worry
Amritsar, May 26
Questions have once again been raised over the security of foreigner tourists and NRIs visiting the city when an unidentified autorickshaw driver allegedly assaulted and looted British national Thomas Richard last evening.
Dal Khalsa to hold march on June 3
Amritsar, May 26
Dal Khalsa plans to undertake a "genocide remembrance march" to commemorate the 25th anniversary of the 1984 Operation Bluestar here on June 3.
Group clash: 3 inmates hurt
Amritsar, May 26
Three jail inmates sustained serious injuries when two groups of criminals fought over a place to sleep in the barracks in Amritsar Central Jail this afternoon.

Pannu assumes charge as DC
Amritsar, May 26
Kahn Singh Pannu joined as Deputy Commissioner here yesterday. He is perhaps the first Deputy Commissioner in the history of the holy city who has been posted here for the fourth time. He has earned fame and regard from all sections of society for his easy accessibility. Pannu is remembered for taking up steps to safeguard the Golden Temple and Akal Takht from pollution.
DC asked to demarcate Valmiki Tirth
Amritsar, May 26
Chief Minister Parkash Singh Badal said the state government would carry out the pending projects for the development of Valmiki Tirth which is believed to be the place where an ashram of Maharshi Valmiki existed.
Cong failed to win over Jat Sikhs, says AICC member
Amritsar, May 26
The voting trend in recently concluded Lok Sabha elections showed that the Congress failed to consolidate its position among Jat Sikhs, a major peasantry section in Punjab, despite doling out debt relief package and agriculture development funds worth crores of rupees in the state, said M.M. Singh Cheema, AICC member and PPCC vice-president, here.
Award for GND varsity teacher
Amritsar: Harbhajan Singh Bhatia, Professor of Punjabi in Guru Nanak Dev University, would receive the Kulbeer Singh Kang award for his contribution to Punjabi literature. Harbans Singh Nagi, general secretary, Sahit Vichar Kendar, said the prize would be given in a programme to be held by the kendar on June 30 at Shri Guru Teg Bahadur College for Women. — TNS