PUNJAB
HARYANA
JAMMU & KASHMIR
HIMACHAL
REGIONAL BRIEFS
NATION
OPINIONS
LETTERS
BUSINESS
SPORTS
WORLD
BRIDES WANTED
GROOMS WANTED
OTHERS
HOW TO PLACE ADVTS
Friday, June 19, 2009, Chandigarh, India
Updated at 3:00 am (IST)

Crackdown begins to reclaim Lalgarh
Police, CRPF storm past Maoist human wall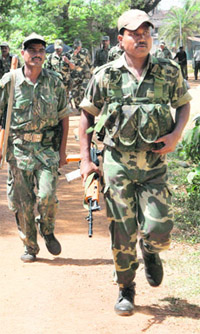 Kolkata, June 18
The West Bengal police and paramilitary forces today jointly launched a massive operation to flush out Red rebels from Lalgarh in West Midnapore district of the state. Firing teargas shells and wielding batons, the security personnel cracked down on human shields of Maoists, who were armed with lathis, axes, spears, bows and arrows.


Editorial: Lessons from Lalgarh

9 cops die in landmine blast

Securitymen head for a violence-hit area at Pirakota, near Lalgarh, on Thursday. — Reuters

CAST YOUR VOTE
Should Indian students continue to go abroad for studies?

EDUCATION
JOBS & CAREERS
HEALTH & FITNESS
SCIENCE & TECHNOLOGY
REAL ESTATE
SPORTS
TRIBUNE CLASSIFIEDS
A Tribune Investigation
Homes without care - I
Here, 6-yr-olds are treated like hardened criminals
Chandigarh, June 18
In gross violation of the Juvenile Justice (Care and Protection of Children) Act 2000, the Department of Social Security has housed more than 200 juvenile delinquents in its observation homes (sudhaar ghar) in pathetic condition, with inmates witness to the apathy of the officers concerned.
Chinks in Coalition
Akali MLA 'abuses' Kalia; BJP boycotts Cabinet meeting
Chandigarh, June 18
The relationship between the SAD-BJP coalition partners in Punjab hit a new low with the latter boycotting a meeting of the state Cabinet today to protest against "abuses" hurled at Local Bodies Minister Manoranjan Kalia by SAD Adampur legislator Sarabjit Singh Makkar yesterday.
NDA 60 Glorious Years
1857 The First Challenge
E - Revolution 2005:
A Two-day IT conclave
Assembly Elections - 2005
Turbans
Chandigarh is 50
125 Years of The Tribune
India: The Tasks Ahead
India at Sixty
A Tribune Supplement
EARLIER FEATURES
On Sundays
On Saturdays
Maya, Bhajan forge alliance
Chandigarh, June 18
In a major political development in Haryana, the BSP and the Haryana Janhit Congress joined hands today for the forthcoming Assembly elections and the Lok Sabha elections to be held in 2014. The announcement came after a meeting between BSP supremo Mayawati and HJC leaders - former Haryana Chief Minister Bhajan Lal and his younger son Kuldeep Bishnoi - in Lucknow.
Nod to coal mining in degraded forests
New Delhi, June 18
Environment Minister Jairam Ramesh and Coal Minister Sriprakash Jaiswal today joined hands to solve the country's power problems. Ramesh announced his ministry's decision to allow coal exploitation in degraded forest lands of the country.


Six-point agenda
No mirage, it's water dug by ONGC in Thar
Dehradun, June 18
After successfully having drilled 'black gold' in several locations around the world, the Oil and Natural Gas Corporation (ONGC) has now dug out water in the parched desert area of Rajasthan.
Maoists form human shield in Lalgarh
June 18, 2009
PM talks tough on terror with Zardari
June 17, 2009
7 more students test positive
June 16, 2009
Swine flu comes to Punjab
June 15, 2009
Sinha quits party posts
June 14, 2009
PC hints at denying special powers to Army
June 13, 2009
PC for phasing out CRPF in J&K
June 12, 2009
Pressurise Pak to do more, Burns told
June 11, 2009
Ready for talks if Pak reins in terror: PM
June 10, 2009
Now, Mulayam does a Sharad Yadav in LS
June 9, 2009