PUNJAB
HARYANA
JAMMU & KASHMIR
HIMACHAL
REGIONAL BRIEFS
NATION
OPINIONS
LETTERS
BUSINESS
SPORTS
WORLD
BRIDES WANTED
GROOMS WANTED
OTHERS
HOW TO PLACE ADVTS
Monday, June 29, 2009, Chandigarh, India
Updated at 3:00 am (IST)

No drought-like situation
'... the trend is quite encouraging and the major sowing period is July & Aug'
Mumbai, June 28
The Government today said there is no drought-like situation in the country even as the monsoon is delayed by about 12 days. The government has announced that the south-west monsoon is likely to be below normal this season. This has raised concerns about its impact on agriculture and the economy.
Showers lash Delhi, Uttarakhand
New Delhi, Jun 28
Pre-monsoon showers today lashed many areas in Delhi, Uttarakhand, Rajasthan, Uttar Pradesh and Bihar, bringing much needed relief to their residents reeling under heat wave conditions intensified by the delayed monsoon.
CAST YOUR VOTE
Should Indian students continue to go abroad for studies?

EDUCATION
JOBS & CAREERS
HEALTH & FITNESS
SCIENCE & TECHNOLOGY
REAL ESTATE
SPORTS
TRIBUNE CLASSIFIEDS
Sun scare for paddy farmers
Bathinda, June 28
Iqbal Singh sits in grief beside the paddy plants that have completely dried in his field at Amirgarh village. A drought-like situation has arisen because of no rain and massive power cuts.
Chandrayaan-1 findings to be out in September
Data could confirm presence of water on the moon
Bangalore, June 28
Data obtained by the Indian lunar mission Chandrayaan-1 is slated for release in the next three months. G Madhavan Nair, ISRO chairman, told The Tribune that an international conference was being organised to announce the findings of the Indian mission.
10 years after Kargil
Army regains supremacy in Drass sector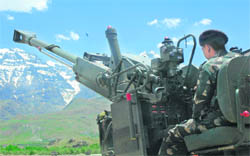 The boom of the Bofors guns does not echo anymore. There are no frenzied television crews beaming live pictures to millions of drawing rooms across the globe.

India has stepped up security along the LoC in the Kargil sector to stop any misadventure from the Pakistani side.
Tribune photo: Mukesh Aggarwal
NDA 60 Glorious Years
1857 The First Challenge
E - Revolution 2005:
A Two-day IT conclave
Assembly Elections - 2005
Turbans
Chandigarh is 50
125 Years of The Tribune
India: The Tasks Ahead
India at Sixty
A Tribune Supplement
EARLIER FEATURES
On Sundays
On Saturdays
Agitators defiant, CPM cadres stage rally
Midnapore (WB), June 28
As security forces consolidated their positions a day after reclaiming key Maoist stronghold of Ramgarh, the group spearheading the tribal agitation in West Midnapore district vowed to continue its resistance while hundreds of CPI(M) cadres took out a rally.
Two Indians assaulted in Oz
Melbourne, June 28
In a fresh case of assault in Australia, two men reported to be Indians, were allegedly attacked and struck with a beer bottle by two juveniles in Sydney today. The attack took place in Sydney's CBD early this morning after the men got into an argument that escalated into a fight, the New South Wales police said.
Now, Kinnauri shawl to get a patent
Shimla, June 28
After the Kullu shawl, Kangra tea and the Chamba "rumaal", it is now the turn of the Kinnauri shawl to acquire a patent and a GI (Geographical Indication) stamp, a hallmark for quality and authenticity. Threatened with the loss of its distinctiveness to the machine-made Ludhiana shawls, the traditional Kinnauri shawl will be community patented, paving way for its marketing in the international market.
Region sizzles as power plays truant
June 28, 2009
Bill on judges' assets soon
June 27, 2009
Maoists strike as PC visits Orissa
June 26, 2009
Poor monsoon this year
June 25, 2009
Maoists ready for talks, truce
June 24, 2009
CPI-Maoist declared terror outfit
June 23, 2009
Advani stands by Jaitley
June 22, 2009
Lalgarh thana recaptured
June 21, 2009
Govt returns Gujarat's anti-terror bill
June 20, 2009
Crackdown begins to reclaim Lalgarh
June 19, 2009
Maoists form human shield in Lalgarh
June 18, 2009