Canal rest house turns into shelter for stray animals
Rajay Deep
Tribune News Service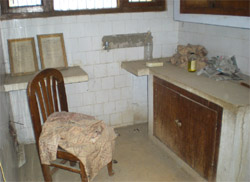 The kitchen of the rest house which is in a dilapidated condition. Photos by writer
Nandgarh (Bathinda), July 28
For reasons best known to the authorities concerned, the canal rest house at village Nandgarh, located on the Bathinda-Badal road, has turned into a shelter for birds and stray animals.
According to officials of the canal department, the rest house was constructed in the late 1980s by the Canal Lining Organization and after a decade, the possession was transferred to the canal department.
The rest house was equipped with all facilities required for proper accommodation, including a number of well furnished rooms, kitchen, dining hall, etc.
Being government property, the room rent was nominal as all officers on duty were entitled to free stay and those who were not on duty, were charged a mere Rs 5 for 24-hour stay. Retired officials and ex-MLAs were entitled to accommodation for just Rs 10 and for a private person, the rent was fixed at Rs 50.
Despite being equipped with all facilities at cheap rent, neither politicians nor bureaucrats prefer to stay at this rest house, which is located just at a distance of about 10 km from the chief minister's house in Badal village.
Whenever the CM visits his native village, a caravan of civil and police officials follow him. Ensuring his safe entry to his home, they all return to Bathinda for suitable accommodation.
On their way back to Bathinda, which is about 35 km from Badal village, these officials cross the canal guest house, Nandgarh, but prefer not to stay there for the night.
As a result, disuse of the rest house has resulted in its disarray. The electricity supply to the rest house has been disconnected and the infrastructure, including beds, electricity appliances, kitchen, washrooms, cupboards, chairs and tables are in poor shape.
During a recent visit to the rest house, this correspondent found the building locked. When the watchmen deputed there opened the doors, it was evident the place was in urgent need of repairs. Rust has set in and termites are visible turning the building into a shelter for birds and stray animals.
The caretaker of the building said, "For the past one year, I did see any one staying here except for a few days when security personnel stayed here during the elections."
When contacted, Harlabh Singh Chahal, executive engineer, canal department, Bathinda, said, "We are aware of the pathetic condition of the rest house at Nandgarh. Once we planned to send a proposal for its renovation but after keeping in mind its viability, we dropped the idea.
"We too are surprised as to why officials in the CM's caravan prefer to leave for Bathinda for accommodation instead of staying at this rest house?" Chahal quipped.