PUNJAB
HARYANA
JAMMU & KASHMIR
HIMACHAL
REGIONAL BRIEFS
NATION
OPINIONS
LETTERS
BUSINESS
SPORTS
WORLD
Tuesday, December 29, 2009, Chandigarh, India
Updated at 3:00 am (IST)

Tharoor 'tweet' earns rebuff from Krishna
Home Ministry will not budge on two-month gap
New Delhi, December 28
Minister of State for External Affairs Shashi Tharoor appears to be in trouble yet again for his "tweeting" habit. He was snubbed publicly by his senior and External Affairs Minister S M Krishna for his controversial remarks on the recent changes in the visa norms introduced by the government in the wake of sensational disclosures in the case pertaining to terror suspects David Coleman Headley and Tahawwur Hussain Rana.
CAST YOUR VOTE
Should the Ruchika Girhotra molestation case be re-opened?

EDUCATION
JOBS & CAREERS
HEALTH & FITNESS
SCIENCE & TECHNOLOGY
REAL ESTATE
SPORTS
Country needs Cong to overcome challenges: PM
New Delhi, December 28
Prime Minister Manmohan Singh today said the country was facing "big challenges" like regionalism, terrorism, Maoist insurgency and communalism and the Congress alone had the capability of tackling all these.


Nation page: The grand old party looking for a makeover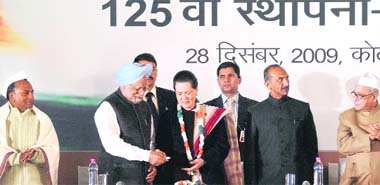 Prime Minister Manmohan Singh, Congress president Sonia Gandhi and Union ministers Pranab Mukherjee and AK Antony at the 125th Foundation Day function of the Congress in New Delhi on Monday.
A Tribune photograph
All police complaints to be treated as FIRs
New Delhi, December 28
Faced with repeated public complaints about non-registration of cases by the police, the Home Ministry has decided to issue a circular to all states asking them to ensure that all complaints received at the police stations should be treated as FIRs.
Japan asks India to sign CTBT
Tokyo non-committal on civil nuclear cooperation
New Delhi, December 28
As the Prime Ministers of India and Japan held informal talks this evening on bilateral ties, Tokyo expressed the hope that India would sign the comprehensive test ban treaty (CTBT) while it remained non-committal on cooperating with New Delhi in the civil nuclear energy field.
Advt
NDA 60 Glorious Years
1857 The First Challenge
E - Revolution 2005:
A Two-day IT conclave
Assembly Elections - 2005
Turbans
Chandigarh is 50
125 Years of The Tribune
India: The Tasks Ahead
India at Sixty
A Tribune Supplement
EARLIER FEATURES
On Sundays
On Saturdays
From Russia with love
2,757-km oil pipeline to Asia-Pacific
Moscow, December 28
Russia, the world's largest crude exporter, today launched a 2,757-kilometre "strategic" pipeline that will supply oil to energy-hungry China and the Asia-Pacific region in its bid to reduce dependency on problematic European markets.
Ruchika Case
PIL seeks action against school
Chandigarh,December 28
A public interest litigation(PIL) petition seeking, among others, action against the management of the city-based Sacred Heart School for having expelled, on flimsy grounds, a promising tennis player Ruchika in the wake of her molestation in 1990 by senior Haryana cadre IPS officer SPS Rathore, has been preferred in the Punjab and Haryana High Court here.


Headley not to be extradited: FBI
December 28, 2009
AP Guv ND Tiwari resigns
December 27, 2009
Ruchika case needs to be reviewed: Moily
December 26, 2009
Crisis deepens in Andhra
December 25, 2009
Centre dithers on Telangana
December 24, 2009
Govt: Copenhagen accord doesn't affect sovereignty
December 23, 2009
Telangana: All set for decision, PM assures MPs
December 22, 2009
Pawar: Climate change to blame for price rise
December 21, 2009
After the heat, a face-saver
December 20, 2009
PM: Future talks should be based on Kyoto Protocol
December 19, 2009