PUNJAB
HARYANA
JAMMU & KASHMIR
HIMACHAL
REGIONAL BRIEFS
NATION
OPINIONS
LETTERS
BUSINESS
SPORTS
WORLD
Sunday, January 3, 2010, Chandigarh, India
Updated at 3:00 am (IST)

Fog throws life out of gear in region
Grid collapse leads to blackout
Patiala, January 2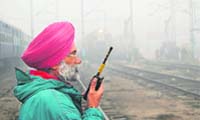 Punjab, Haryana, Chandigarh and parts of Jammu and Kashmir reeled under a power crisis as 35 lines of the northern grid tripped around 3 am following a technical glitch in the transmission lines triggered by fog and cold conditions.
A Railways official monitors the passage of trains on a foggy day at Amritsar railway station on Saturday. Photo: Vishal Kumar
Air, rail services go haywire

'System failure' behind train mishaps
CAST YOUR VOTE
Should the Ruchika Girhotra molestation case be re-opened?

EDUCATION
JOBS & CAREERS
HEALTH & FITNESS
SCIENCE & TECHNOLOGY
REAL ESTATE
SPORTS
Lucknow, January 2
Blinding fog in the state led to three railway accidents in Etawah, Kanpur and Allahabad. And in the most serious collision between Prayagraj Express and Gorakhdham Express near Kanpur, at least 10 persons were killed.

DEATH ON THE TRACKS

Rescue workers examine the wreckage at Etawah. — Reuters
Just chill: Cloudy days ahead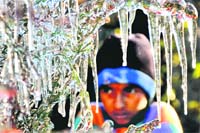 Chandigarh, December 2
Cold wave conditions prevailing in the region, including Punjab, Haryana and Himachal Pradesh, are likely to continue in the coming days.
ICY CHILL: As region reels under intense cold wave, frozen water forms icicles on a tree in a village in Sirmaur on Saturday. Tribune photo: Pradeep Tewari
Advt
NDA 60 Glorious Years
1857 The First Challenge
E - Revolution 2005:
A Two-day IT conclave
Assembly Elections - 2005
Turbans
Chandigarh is 50
125 Years of The Tribune
India: The Tasks Ahead
India at Sixty
A Tribune Supplement
EARLIER FEATURES
On Sundays
On Saturdays
'Murder' aboard cruise-liner
'She sent SOS before her death'
Gurgaon, January 2
Neha, 23, daughter-in-law of Gurgaon Civil Surgeon Dr SS Dalal, got killed under suspicious circumstances on a luxury ship on way from Miami in the USA to Bahamas. Nearly an hour before her death, Neha had reportedly sent an e-mail to her brother, Anuj Chhikara, a local advocate, complaining about torture by her husband.
3 Pak terrorists escape
New Delhi, January 2
Three Pakistani terrorists, who, after the completion of their respective sentence, were to be deported to their country, escaped from the detention of the Foreigners Regional Registration Office (FRRO) this evening. They were involved in the Turkman Gate blast in the capital on June 18, 2000. The three terrorists, Abdul Razzak, Sadiq and Rasyat, were to be deported to Pakistan via Wagah Border.
Cops face music for 'partying' with mafia
Mumbai, January 2
Five police officers in Mumbai face suspension after they were recorded dancing at a party thrown by members of the Chotta Rajan gang on Christmas Eve. According to sources, Mumbai police Commissioner D Sivanandan today recommended the suspension of DCP VN Salve and ACP Prakash Wani along with three other junior officers for attending the party thrown by a member of the Chotta Rajan gang, Paulson Thomas.
Rathore gets interim relief
January 2, 2010

CBI gets sanction to prosecute Sajjan
January 1, 2010
Rathore faces SIT probe
December 31, 2009
Ruchika case to be re-probed
December 30, 2009
Tharoor 'tweet' earns rebuff from Krishna
December 29, 2009
Headley not to be extradited: FBI
December 28, 2009
AP Guv ND Tiwari resigns
December 27, 2009
Ruchika case needs to be reviewed: Moily
December 26, 2009
Crisis deepens in Andhra
December 25, 2009
Centre dithers on Telangana
December 24, 2009