PUNJAB
HARYANA
JAMMU & KASHMIR
HIMACHAL
REGIONAL BRIEFS
NATION
OPINIONS
LETTERS
BUSINESS
SPORTS
WORLD
Monday, February 8, 2010, Chandigarh, India
Updated at 3:00 am (IST)

CMs one on internal security
States to recruit 1.5 lakh more police personnel within a year
New Delhi, February 7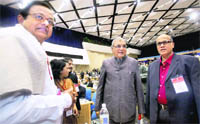 Responding to Prime Minister Manmohan Singh's call for coordinated efforts, the Chief Ministers today expressed their unanimous resolve to resolutely fight the forces that posed a grave threat to the national security.
Union Home Minister P Chidambaram with Haryana CM Bhupinder Singh Hooda and Goa CM Digambar Kamat at the conference of chief ministers in New Delhi on Sunday. — PTI
PC: Sikh militancy resurfacing

To take on Naxals

No to GUJCOC Bill

Patil skips Chd

Editorial:Tackling food inflation
CAST YOUR VOTE
Should khap panchayats have any right to interfere in matrimonial matters?

Advt
EDUCATION
JOBS & CAREERS
HEALTH & FITNESS
SCIENCE & TECHNOLOGY
REAL ESTATE
SPORTS
India proposes Feb 18 or 25 for talks with Pak
New Delhi, February 7
India has proposed to Pakistan that the foreign secretary-level talks between the two countries could be held on February 18 or February 25, and a response from Islamabad is awaited, sources in the government said today.

N-capable Agni-III testfired
Bhadrak (Orissa), February 7
India today successfully tested its indigenous nuclear-capable Agni-III missile with a range of over 3,000-km, consolidating the country's position among a select group of nations that have intermediate-range ballistic missile (IRBM)-capability, defence sources said.
Punjab SC schemes fail to take off
Most projects hit due to lack of funds
Chandigarh, February 7
For the Punjab government, social welfare apparently means running the Shagun Scheme alone. The government is spending most of the funds earmarked for the Welfare of the Scheduled Castes and the Backward Classes Ministry on this scheme even as the cutting-edge projects formulated to better the lot of the SC and BC students are not being implemented.
NDA 60 Glorious Years
1857 The First Challenge
E - Revolution 2005:
A Two-day IT conclave
Assembly Elections - 2005
Turbans
Chandigarh is 50
125 Years of The Tribune
India: The Tasks Ahead
India at Sixty
A Tribune Supplement
EARLIER FEATURES
On Sundays
On Saturdays
Warming to hit wheat production in Punjab
Chandigarh, February 7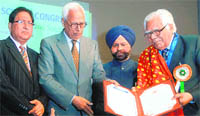 For each degree rise in the temperature in the region, Punjab will lose 750 kg per hectare of wheat.
Governor of Jammu and Kashmir NN Vohra gives 'Lifetime Achievement Award' to former Vice-Chancellor of Punjab University and eminent mathematician Prof RP Bambah (right) in Chandigarh on Sunday. Tribune photo: Vinay Malik
Oz cops ask Indians to 'look poor' to avoid attacks
Melbourne, February 7
Victorian police chief Simon Overland has advised Indian students in Australia to keep a low profile and "try to look as poor as you can" to avoid attacks, drawing strong condemnation from the community which called his statement "ridiculous".
The cord connection is your lifeguard
India a favoured destination for stem cell banking, say experts
Hyderabad, February 7
It's a new-age therapy that has potential to cure several life-threatening ailments. Stem cells, a biogenetic insurance against diseases like Alzheimer's, multiple sclerosis, muscular dystrophy and even cancer, are evincing keen interest among scientists globally.
Panel to tackle price pangs
February 7, 2010
Rahul hops onto Mumbai trains to snub Shiv Sena
February 6, 2010
Let's talk, India tells Pak
February 5, 2010
If PM panel has its way, LPG to go up by Rs 100
February 4, 2010
Amar, Jaya Prada expelled
February 3, 2010
PC says Mumbai belongs to all
February 2, 2010
Sopore gunbattle ends, Harkat militants escape
February 1, 2010
Pak court records evidence
January 31, 2010
PCB bars players from IPL
January 30, 2010
Stop outsourcing jobs: Obama
January 29, 2010