PUNJAB
HARYANA
JAMMU & KASHMIR
HIMACHAL
REGIONAL BRIEFS
NATION
OPINIONS
LETTERS
BUSINESS
SPORTS
WORLD
Wednesday, March 3, 2010, Chandigarh, India
Updated at 3:00 am (IST)

Fuel Prices: Oppn plans to stall Parliament
Cong in a huddle, may announce token rollback
New Delhi, March 2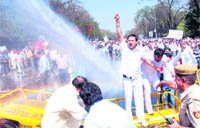 As an aggressive Opposition geared up to corner the UPA over fuel price hike in Parliament tomorrow, Congress core group, headed by party president Sonia Gandhi, went into a huddle today to devise an effective damage control strategy.
The police uses a water cannon to disperse BJP activists protesting against hike in fuel prices, in New Delhi on Tuesday. Tribune photo: Manas Ranjan Bhui
No threat to govt: Trinamool, DMK
Pak not keeping its promise: PM
On Board Air India 1, March 2
Prime Minister Manmohan Singh on Monday said that despite Pakistan's promises to not allow its territory to be used for terrorist acts against India, progress on the ground has been "rather nil".
Focus to be on…

Pak uneasy

Editorial : Indo-Saudi ties
CAST YOUR VOTE
Are you happy with the Budget?

Advt
EDUCATION
JOBS & CAREERS
HEALTH & FITNESS
SCIENCE & TECHNOLOGY
REAL ESTATE
SPORTS
Abducted Pak Sikhs rescued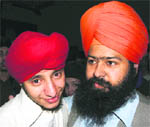 Days after the beheading of a Sikh by militants in the tribal areas bordering Afghanistan for not being paid ransom, the other two members of the community held captive were recovered by Pakistani security forces on Monday, officials said.
Pakistani Sikh Gurendal Singh (left) is received by a family member after his release in Peshawar on Monday night. — AP/PTI

Ready for N-plant: Badal
Lays stone of 1,320-MW thermal unit at Rajpura
Rajpura, March 2
Punjab is ready to set up a nuclear power plant, if offered by the Centre. This was stated by Chief Minister Parkash Singh Badal while addressing mediapersons after laying the foundation stone of a 1,320-MW coal-based thermal plant at Nalas village in Rajpura today.
Husain: I love India but it rejected me
New Delhi, March 2
Political leaders, intellectuals and artists in India kept silent when right-wing outfits targeted him, legendary painter MF Husain says "with deep pain" in his heart. "I still love India. But India doesn't need me. I am saying this with deep pain in heart," Husain told Gulf Madhyamam, Kerala-based Malayalam daily Madhyamam's Doha edition, in an interview.
Today's Specials
AMRITSAR PLUS

JALANDHAR PLUS

J&K PLUS

HEALTH & FITNESS

HIMACHAL PLUS

JOBS & CAREERS
NDA 60 Glorious Years
1857 The First Challenge
E - Revolution 2005:
A Two-day IT conclave
Assembly Elections - 2005
Turbans
Chandigarh is 50
125 Years of The Tribune
India: The Tasks Ahead
India at Sixty
A Tribune Supplement
EARLIER FEATURES
On Sundays
On Saturdays
Getting amnesty not to be that easy
Re-entry of militants will not mean closure of court cases
New Delhi, March 2
Union Home Minister P Chidambaram's recent announcement of a general amnesty for Kashmiri militants, the proposal extended to Sikh extremists too later, does not mean that pending cases against them would be closed automatically, well-placed sources have said.


India disappointed with Pakistan
New Delhi, March 2
Home Minister P Chidambaram today lashed out at Pakistan for allowing JuD chief Hafeez Saeed to make "provocative" speeches against India instead of acting against him for his role in the 26/11 attacks. (Details on Nation page)


No relief for prisoners of apathy
Hundreds of foreign nationals wait to be deported to their countries


Chandigarh, March 2
In gross violation of international conventions, hundreds of foreign nationals are languishing in jails across India, even years after the completion of their sentence. They are waiting to be deported to their countries.
India, Saudi role crucial in global economy: PM
March 1, 2010
Trinamool, DMK seek rollback of fuel hike
February 28, 2010
FM skirts populist steps
February 27, 2010
Indo-Pak talks end without much headway
February 26, 2010
No increase in fares, freight
February 25, 2010
Price rise debate sacrificed to rules
February 24, 2010
Govt committed to 'aam aadmi': Prez
February 23, 2010
2 KLF terrorists held
February 22, 2010
Hyderabad on boil, youth sets himself ablaze
February 21, 2010
26/11 probe to figure in Indo-Pak talks: PC
February 20, 2010
Red revenge: Naxals gun down 11 in Bihar
February 19, 2010
Courts don't need state nod for CBI probe: SC
February 18, 2010