PUNJAB
HARYANA
JAMMU & KASHMIR
HIMACHAL
REGIONAL BRIEFS
NATION
OPINIONS
LETTERS
BUSINESS
SPORTS
WORLD

Thursday, March 4, 2010, Chandigarh, India
Updated at 3:00 am (IST)


Petro prices fuel fire in Houses


New Delhi, March 3
The entire opposition today got together and disrupted proceedings in both the Lok Sabha and the Rajya Sabha over the government's decision to raise prices of petrol and diesel, forcing two adjournments till 2 pm. Trouble started soon after the two Houses met for the day after a four-day break, with the opposition members demanding rollback of the price increase announced in the Budget presented by Finance Minister Pranab Mukherjee on February 26.

Business page: Praful favours service tax rollback on air travel
Nation page:
Karuna confident of rollback

Pawar refutes sugar scam charge

PM, Advani spar in LS
New Delhi, March 3
The Lok Sabha today witnessed a debate on the Presidential address to the joint session of Parliament, as BJP leader LK Advani managed to fluster a usually reticent Prime Minister, provoking him into two interventions.
CAST YOUR VOTE
Are you happy with the Budget?

Advt
EDUCATION
JOBS & CAREERS
HEALTH & FITNESS
SCIENCE & TECHNOLOGY
REAL ESTATE
SPORTS
Plane crashes at air show, 2 pilots, 1 civilian dead
Navy grounds Kiran aircraft fleet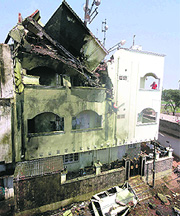 Hyderabad, March 3
It was a beginning to the India Aviation 2010 no one had expected. The air show, meant to showcase the country's potential in aviation sector, went horribly wrong when a Kiran MK-II aircraft of the Navy's prestigious Sagar Pawan aerobatics fleet crashed into a residential building while performing at the inaugural ceremony here this morning.
The damage caused to a residential building after a Navy aircraft crashed in Hyderabad on Wednesday. — Reuters

Surat bombing: Key suspect held in UK
London, March 3
A key 1993 Surat terror bombing suspect, hunted by the police worldwide for over 17 years, was arrested from a north England grocery store. A city court here will decide over his extradition to India.
NDA 60 Glorious Years
1857 The First Challenge
E - Revolution 2005:
A Two-day IT conclave
Assembly Elections - 2005
Turbans
Chandigarh is 50
125 Years of The Tribune
India: The Tasks Ahead
India at Sixty
A Tribune Supplement
EARLIER FEATURES
On Sundays
On Saturdays
Major Dimple Singla gets one-year RI
Chandigarh, March 3
General court martial today sentenced Major Dimple Singla, former officer of the Judge Advocate General Department, to one year of rigorous imprisonment and cashiered her from service for professional impropriety.
'Lashkar behind Kabul attack'
Holbrooke warns against jumping to conclusions
Afghan intelligence officials believe Pakistan-based Lashkar-e-Taiba was behind last week's attack in Kabul that killed 17 people, including six Indians, and that the gunmen sought out Indian victims.
Allow dyslexics to use scribes: HC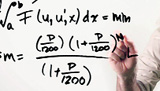 But rejects plea on use of calculators in CBSE exams
Chandigarh, March 3
Students suffering from dyslexia may not have to do the calculations themselves during examinations.
Fuel Prices: Oppn plans to stall Parliament
March 3, 2010

India, Saudi role crucial in global economy: PM
March 1, 2010
Trinamool, DMK seek rollback of fuel hike
February 28, 2010
FM skirts populist steps
February 27, 2010
Indo-Pak talks end without much headway
February 26, 2010
No increase in fares, freight
February 25, 2010
Price rise debate sacrificed to rules
February 24, 2010
Govt committed to 'aam aadmi': Prez
February 23, 2010
2 KLF terrorists held
February 22, 2010
Hyderabad on boil, youth sets himself ablaze
February 21, 2010
26/11 probe to figure in Indo-Pak talks: PC
February 20, 2010
Red revenge: Naxals gun down 11 in Bihar
February 19, 2010
Courts don't need state nod for CBI probe: SC
February 18, 2010