ART & LITERATURE
'ART & SOUL
ENTERTAINMENT
TELEVISION
GARDEN LIFE
NATURE
FOOD TALK
CONSUMER, BEWARE!
FASHION
HOLLYWOOD HUES
BRIDGE
ULTA-PULTA
EARLIER FEATURE
TRAVEL
RELATIONSHIPS
DREAM THEME
TIME OFF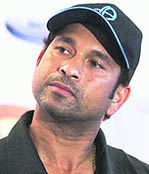 Beyond compare
Post-Sachin's new record, there have been
comparisons galore with other batting legends. But
is it fair to compare players from different eras, asks Donald Banerjee
Within days of Sachin Tendulkar scoring a record double century in a one-day match, comparisons have begun to find out who is the greatest batsmen of all times. The names of Sir Don Bradman, Sir Viv Richards, Sunil Gavaskar, Ricky Pointing, Sir Garfield Sobers and Brian Lara are being discussed.
A Visual KATHASARIT
The book, A Mythical Universe: Jayasri Burman, paints a vivid portrait of the artist. An excerpt by Ashok Vajpeyi
ART has many ways of exploring, articulating and embodying reality: it can narrate, it can abstract; it can describe in detail; it can evoke and emote. It can, of course, reveal or conceal.
Art à la carte
Restaurants are the new art galleries, says Sharmila Chand
ADorning the walls of cafes and fine-dining restaurants, art is no longer the domain of art galleries alone. Painting a vivid portrait of modern designs, Mocha Art House, located in DLF Promenade Mall, Vasant Kunj, Delhi, is one such place where avant-garde space fuses contemporary art, eclectic culture and wholesome food.
Sita and Mother Earth
There are very few temples dedicated to Sita, Lord Rama's wife. The famous Sita Devi Temple, near Bangalore, has become a place of pilgrimage for people, who seek her blessings for good health and prosperity, writes Papri Sri Raman
FIREFLIES, a small farm about 30 km from Bangalore, has become home to feminism in a gentle, innovative way. "Mother Earth is the deity here," says Aravind Menon, campus resident and a media consultant. He is right.
Land of the fairy chimneys
The stark volcano-created valley of Cappadocia looks like a moonscape, writes Ranjita Biswas
STILL bleary-eyed from an overnight bus journey from Istanbul, the first sight of Cappadocia in the morning light took sometime for me to register. Was it how the moonscape looked, I wondered, these stark snuff-coloured hills, some of them like gigantic anthills that showed up beyond glass window?
Take care of your neck
Some of the basic problems of the neck can be sorted out by a massage, beauty aids and regular exercise, says Rukmini Vasudeva
LET us face the facts. We are always worried about acne, pimples, rashes and pigmentation on our faces, arms and legs. But comparatively, we pay only little attention to the condition and problems of our neck. This apathy has its own perils.
Oil prices to record all-time high
Madan Gupta Spatu predicts a year of mixed fortunes as New Samvat 2067 begins on March 16
THE Hindu New Year i.e. Vikram Samvat 2067 commences on Chaitra Parvishtey 3, Tuesday, March 16, 2010. It would start at 2.31am on Monday night under poorva bhadrapad nakshatra in Sagittarius ascendant.
A night of memorable firsts
The magic of Avatar dimmed appreciably at the 82nd Academy Awards as smaller films took home the big honours of the evening, says Saibal Chatterjee
IN a year of numerous significant firsts, the 82nd edition of the Academy Awards made a clean break from the past like never before. The message that went out from Kodak Theatre, Los Angeles, was that small films are anything but pushovers...
Composer with a difference
Khayyam's compositions are a class in themselves, says M. L. Dhawan
Mohammed Zahur Khayyam Hashmi, popularly known as Khayyam, who was recently awarded the Filmfare Lifetime Achievement Award for his contribution to Hindi film music, wanted to become an actor.