PUNJAB
HARYANA
JAMMU & KASHMIR
HIMACHAL
REGIONAL BRIEFS
NATION
OPINIONS
LETTERS
BUSINESS
SPORTS
WORLD

Thursday, March 18, 2010, Chandigarh, India
Updated at 3:00 am (IST)

Foreign education Bill hits roadblock
Oppn stands united against foreign varsities' entry n Left calls it market driven n BJP wants more discussion on it
New Delhi, March 17
The plan to bring foreign education in India may not get realised just yet. Barely two days after the Union Cabinet cleared the long-pending draft law that allows foreign education providers to set up campuses in India and offer degrees independently, principal opposition parties have objected to the bill, slamming it as "commercially driven" and one that would breed inequity.
Graft issue rocks Punjab House
Chandigarh, March 17
"Blatant corruption" in the state Social Security Department had the Badal government running for cover in the House today with the legislators, including those from the ruling SAD and BJP, alleging that each post of anganwadi worker was being sold at anything above Rs 60,000.
CAST YOUR VOTE
Do you support the Women Reservation Bill?

EDUCATION
JOBS & CAREERS
HEALTH & FITNESS
SCIENCE & TECHNOLOGY
REAL ESTATE
SPORTS
Headley set to plead guilty
Chicago, March 17
Pakistani-American David Coleman Headley, a LeT operative charged with conspiring in the Mumbai terror strike, will plead guilty before a US court tomorrow, five months after he was arrested by the FBI.
Maya gets another garland
Lucknow, March 17
Yet another garland of crisp currency notes was presented to Uttar Pradesh Chief Minister Mayawati here on Wednesday even as a row triggered by a similar show of extravagance two days ago refused to fade away.
Indians get 6 gold medals at C'wealth boxing meet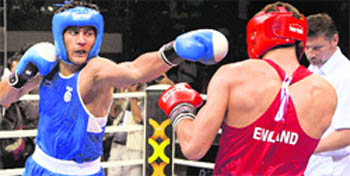 Vijender Singh punches his opponent Frank Buglioni of England in the final of the middle 75 kgs category at Commonwealth Boxing Championship in New Delhi on Wednesday. Vijender won the match. Five other
Indians - Suranjoy Singh (52kg), Amandeep Singh (49kg), Jai Bhagwan (60kg), Paramjeet Samota (+91kg) and Dinesh Kumar (81kg) - also won the Gold medal. — PTI
(Details on Sports page)
NDA 60 Glorious Years
1857 The First Challenge
E - Revolution 2005:
A Two-day IT conclave
Assembly Elections - 2005
Turbans
Chandigarh is 50
125 Years of The Tribune
India: The Tasks Ahead
India at Sixty
A Tribune Supplement
EARLIER FEATURES
On Sundays
On Saturdays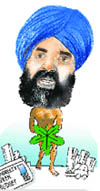 Manpreet: The lone ranger
Chandigarh, March 17
For someone who loves to read history to understand conflict between nations, Punjab finance minister, Manpreet Badal, seems to have learnt little in trying to resolve the conflicting interests of the coalition government he represents. Inspite of his well rehearsed rhetoric on the need for fiscal prudence in cash- starved Punjab, the 'coalition dharma' is apparently holding him back.
Rural buzz: His masterji's voice
Jalandhar, March 17

He has not taught in any school but is well-known as 'masterji'. Voice is his identity, his passport to fame. In fact, in the rural pockets of the region, his vocal folds have been creating a buzz for the past 37 years.
Avinash Bhakhari, who as a character of masterji of Dehati programme of All India Radio, Jalandhar, has become a household name in rural Punjab. Tribune photo: Malkiat Singh
Osama unlikely to be caught alive: US
US Attorney-General Eric Holder on Tuesday told lawmakers it was unlikely that Osama bin Laden would be captured alive and tried in a US courthouse. In a hearing on Capitol Hill that at times turned heated as Holder sparred with Republican lawmakers, the Attorney-General was asked by Congressman Frank Wolf how the Obama Administration would handle the Al-Qaida leader should he be captured alive.
Manpreet treads cautiously
March 17, 2010
Govt forced to defer N-liability bill
March 16, 2010
Two bomb planters arrested
March 15, 2010
India, not Kashmir, Lashkar's true goal
March 14, 2010
From Moscow to Delhi: 16 N-reactors
March 13, 2010
Govt buys peace with Yadavs
March 12, 2010
RS fever grips Lok Sabha
March 11, 2010
(A)YES TO WOMANPOWER
March 10, 2010
House shame on Women's Day
March 9, 2010
Yadav trio left out in cold
March 8, 2010