Akhada stance on power projects: Centre puts onus on state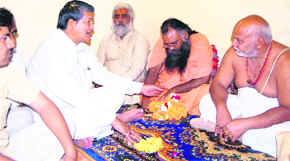 Haridwar, March 24
In a major political development over the issue of the Akhada Parishad taking an agitational route demanding instant closure of hydro power projects coming up on the Ganga, Union Minister for Labour and Employment and MP form Haridwar Harish Rawat has put onus on the state government.
Union minister Harish Rawat holds talks with Akhada Parishad chief Mahant Gyandas in Haridwar on Tuesday. Tribune photo: Rameshwar Gaur

The other side of former CM of Orissa Gomang
Gives musical presentation at Kumbh function
Haridwar, March 24
The Maha Kumbh in Haridwar has created a perfect amalgamation of religion, culture and politics. Managing time from their busy schedule, politicians and film stars are also coming to Haridwar as common persons.
Raising Day
War heroes seek medical, disability pensions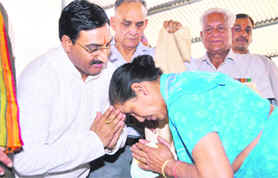 Dehradun, March 24
Sadhav Singh Chauhan (76) of Pauri was part of the Assam Rifles that made its valuable contribution in the 1962 Indo-China war. He lost both legs due to frostbite, as there was heavy snow near the China border in 1967. His one leg had to be amputated and other stopped working.
Widow of an Assam Rifles' jawan being felicitated by Chief Minister Ramesh Pokhriyal Nishank, along with Lt Gen HB Kala (retd), in Dehradun on Wednesday. A Tribune photograph

MP seeks quota in proposed Bill
Nainital, March 24
Member of Parliament from Almora Pradeep Tamta has asked Prime Minister Manmohan Singh to re-look into the proposed Foreign Educational Institution (Regulation of Entry and Operation) Bill, 2010, and in the interest of the backward and downtrodden society of the country.
World TB Day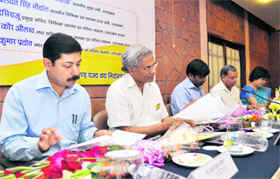 Detect more cases in hills: Health Principal Secy
Dehradun, March 24
Principal Secretary (Health) Keshav Desi Raju today said those involved in the Tuberculosis Control Programme should be able to detect more TB cases in the hills and refused to give much credence to the number of cases at 70,000 in the state.
Dignitaries participate at the World TB Day function in Dehradun on Wednesday. A Tribune photograph

Shanky's fiery knock leads NSCC to victory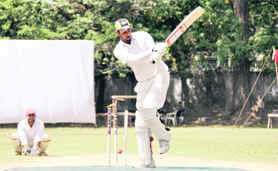 Dehradun, March 24
A fast knock of 62 runs in just 41 balls by Shanky helped NSCC Rishikesh register a victory over Doon Tiger Academy Dehradun by 33 runs in a knock out match during the ongoing 3rd All-India Uttarakhand Cup underway here on the Rangers College Ground.
A batsman gets bowled during a match at the 3rd All-India Uttarakhand Cup Cricket Tournament in Dehradun on Wednesday. A Tribune photograph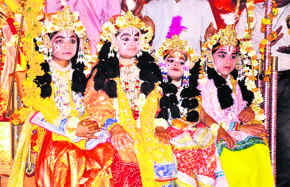 A scene of a shobha yatra taken out on the occasion of Ram Navami at the Bairagi camp in Haridwar on Wednesday. Tribune photo: Rameshwar Gaur

Malnutrition, poor living conditions cause TB: Study
Dehradun, March 24
Tuberculosis (TB) has tremendous impact on a patient's household in terms of income, health education and nutrition. A sociological study conducted by a non-government organisation, Horizon of Prosperity and Education (HOPE), in Uttarakhand has pointed out that the disease seemed to strike the young and was prevalent in the age group 15-59 years, the most productive years of one's life. Fear and stigma of tuberculosis had a greater impact on women than on men.
Uttarakhand-UP Real Host Cup
PCA defeat UP Star by 23 runs
Dehradun, March 24
The PCA defeat UP star by 23 runs here today during the ongoing Uttarakhand-UP Real Host Cup Cricket Tournament being organised by the Uttarakhand Youth t-20 Cricket Association in Biharigarh. The PCA elected to bat first after winning the toss. The team scored 132 runs in the allotted 20 overs. Adesh scored 23 runs and remained the the top scorer for the side.