Workshop on Domestic Violence Act held

'Awareness about the Act need of hour'
Sushil Goyal
Tribune News Service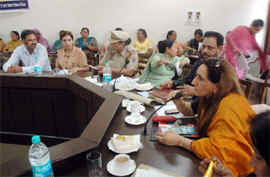 Madhvi Kataria (extreme right), Director, Women & Child Development Department, Punjab, during an awareness workshop on the Protection of Women from Domestic Violence Act-2005 held in Bathinda on Saturday. Tribune photo: Pawan Sharma

Bathinda, May 15
About 250 cases of domestic violence have been registered under "The Protection of Women from Domestic Violence Act-2005" in various parts of the state since March 2007.
Director of the Women and Child Development Department, Punjab Madhvi Kataria said here today that domestic violence had emerged as a social evil in the society. In such circumstances, the Act had been providing protection to the affected women. So, it was a need of the hour that every woman should have complete knowledge about the Act, she added.
Kataria further said all child development project officers (CDPOs) of the state had been appointed protection officers by the Punjab Government through a notification under the Act and they too should have complete information and knowledge about the Act.
She said if there would be lack of coordination among the CDPOs, the police, the NGOs, and the legal authorities then implementation of the Act would suffer to an extent. She said this was the reason that her department had been organising awareness workshops about the Act since March 27 in the districts. CDPOs, advocates, police officials, members of the NGOs and state legal authorities had been taking part in these workshops.
She was here today to attend such a workshop organised for two districts of Bathinda and Mansa, in the local Circuit House.
Among others, the workshop was attended by joint director of the department Nachhattar Singh, deputy director Rajnish Kumar, an advocate from Punjab and Haryana High Court Veena Sharma, secretary of the District Red Cross Society JR Goyal, District Programme Officer Shashi Tayagi, the CDPOs, the police officials and the local advocates.
Kataria also said any woman, facing domestic violence, could lodge complaint with the CDPO, the NGO concerned, the police, and the magistrate.
It was also told at the workshop that domestic violence against a woman might be on various grounds, like sexual, economic, social and emotional.