Party members root for Nishank as UNESCO ambassador
Dehradun, May 4
As if demand for a Nobel Prize for successful conduct of the Maha Kumbh was not enough, now the ministerial-rank holders in the Nishank government have urged the Central government to depute the Chief Minister Ramesh Pokhriyal Nishank as India's ambassadors to the UNESCO.
Commission for developing model villages for SCs, STs
Nainital, June 4
The Uttarakhand Scheduled Caste (SC) and Scheduled Tribe (ST) Commission has called for developing some SC/ST villages as model villages with all facilities like potable water, health centre, power, education and roads. The commission has recommended that every year two or three such villages be developed in every district by making use of the grants coming under the Special Component Plan.
Exhibition on rural technology begins
Nainital, June 4
A three-day national-level science and rural technology exhibition under the name of Second Destination Uttarakhand Expo-2010 got underway at Major Rajesh Adhikary Inter College started here this morning.
NREGA: Appointment of Lokpal hangs fire
Dehradun, June 4
Despite selecting ombudsmen for each of the 12 districts, except Haridwar, the Uttarakhand government has failed to appoint an ombudsman or Lokpal as envisaged in the Mahatma Gandhi National Rural Employment Guarantee Act (NREGA).
110 vet depts to be linked to Atal Adesh Gram Yojna
Dehradun, June 4
State Agriculture Minister Trivendra Singh Rawat announced good news at the 5th biannual convention of the Diploma Veterinary Service Association. He said 13 Chief Extensive Officers would be promoted at the district level. As many as 110 veterinary departments would be connected under the Atal Adesh Gram Yojna and equipped with all kind of possible amenities such as education and health. A township would be developed with the combination of 670 panchayats. A GO order has been released regarding this.
Doon to host forestry congress from Dec 15
Dehradun, June 4
Bowing to the wishes of Union Environment and Forest Minister Jairam Ramesh, Indian Council of Forestry Research and Education (ICFRE) will hold the first Indian Forestry Congress in Dehradun.
Sarovar Group opens hotel at Haridwar-Roorkee highway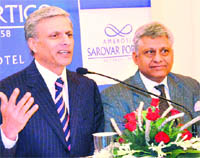 Haridwar, June 4
The city is know for its religious, tourism and serene location and is attracting major hotel chains and resorts to set up their establishments in the pilgrim city. Besides the yearly flow of pilgrims, tourists, including a large number of foreign tourists, several mega hotels are being set up here. Apart from providing accommodation facility to the visitors, these projects are providing employment to locals in a large number.
Executive Director Sarovar Hotels and Resorts Ajay K Bakarya addresses the media at the launch of hotel Ambrosia Sarovar Portico in Haridwar on Friday. Tribune Photo: Rameshwar Gaur

Panel wants 100 pc utilisation of Central funds
Pitthoragarh, June 4
Central Planning Commission member Soumitra Chaudhuri said today that officers of the Uttarakhand Planning Department should lay emphasis on using 100 per cent Central grants within the fixed time on various schemes which aimed at uplift of the quality of life of the common man in the state. "If these schemes aided by the Planning Commission are delayed by the negligence of officers, their cost increases and we fail in providing justice to the common man" said Dr Chaudhuri.
Dispute Triggered By Dog
Removal of SDM demanded
Mussoorie, June 4
A dispute over barking dog has taken a new turn as Municipal Council employees in a meeting held at MC premises came out in support of their president and demanded immediate ouster of the SDM Mussoorie.
Garbage disposal: Chamoli meets DM
Dehradun, June 4
Mayor Vinod Chamoli met with District Magistrate Santhiyal Pandiyan and MLA Ganesh Joshi to discuss the compounding problem of garbage disposal in the city. To ease pressure on the Dehradun Municipal Corporation to collect garbage from all over the city, the DM suggested all schools, hospitals and government institutes to collect and dump their garbage in the main dumping ground at Sahastradhara. Chamoli happily agreed to the proposal though he expressed his concern whether these institutes would comply with the order.
20 skins of animals seized
Dehradun, June 4
In a major haul, the Wildlife Protection Society of India (WPSI) in assistance with Upper Division Badkot has seized skins of 20 wild animals from the Badkot region of Uttarkashi district of Uttarakhand. These include 14 skins of blue sheep, five skins of barking deer and one of Eurasian otter.