PUNJAB
HARYANA
JAMMU & KASHMIR
HIMACHAL
REGIONAL BRIEFS
NATION
OPINIONS
LETTERS
BUSINESS
SPORTS
WORLD
Wednesday, June 16, 2010, Chandigarh, India
Updated at 3:00 am (IST)

Money Laundering
Chautala & sons booked
New Delhi, June 15
The Enforcement Directorate has booked former Haryana Chief Minister Om Prakash Chautala and his two sons, Ajay Chautala and Abhey Chautala, on money laundering charges following a CBI charge sheet against the three in a court in which the agency has accused them of owning assets disproportionate to their legal income.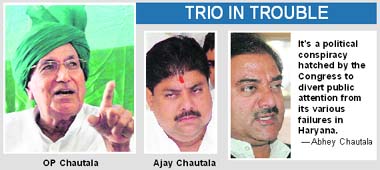 CAST YOUR VOTE
Should Warren Anderson be expedited?

EDUCATION
JOBS & CAREERS
HEALTH & FITNESS
SCIENCE & TECHNOLOGY
REAL ESTATE

SPORTS & WELLNESS
Alert pilot diverts MiG before crash, saves township
* Mishap near Ludhiana * 3rd MiG crash this year
* IAF orders probe
Raikot (Ludhiana), June 15
A major tragedy was averted when an alert pilot of the Indian Air Force (IAF) tilted a crashing jet fighter MiG-21 towards fields saving lives and property before ejecting safely here on Tuesday.


Punjab page: Mild cane charge at crash site

Saharan Majra still remembers pilot's sacrifice


Govt drops plans to dilute N-Liability Bill
New Delhi, June 15
Faced with stiff opposition from the BJP and the Left, the government today dropped plans to dilute a key provision in the Nuclear Liability Bill as its top officials were grilled by the Parliamentary Committee.
SC stays HC judge orders on Dinakaran's decisions
New Delhi, June 15
Ticking off Karnataka High Court judge Justice DV Shylendra Kumar for overstepping "judicial discipline", the Supreme Court today stayed his interim orders over some administrative decisions of Chief Justice PD Dinakaran.


Nation page: Bar renews demand for Dinakaran's transfer
UNION BUDGET 2010-11
RAILWAY BUDGET
2010-11
NDA 60 Glorious Years
1857 The First Challenge
E - Revolution 2005:
A Two-day IT conclave
Assembly Elections - 2005
Turbans
Chandigarh is 50
125 Years of The Tribune
India: The Tasks Ahead
India at Sixty
A Tribune Supplement
EARLIER FEATURES
On Sundays
On Saturdays
Soon, law for e-storage of academic certificates
New Delhi, June 15
There's good news for students. The Government has finalised a draft law to ensure online electronic storage of academic certificates on the lines of share certificates and financial instruments. The move will effectively curb the practice of forging certificates and marksheets.
Anderson's exit
Complaint filed against Arjun
Bhopal/New Delhi, June 15
A complaint has been filed in a local court here for registration of a criminal case against former Madhya Pradesh CM Arjun Singh for allegedly releasing the then Union Carbide chief Warren Anderson in a wrong manner after the 1984 Bhopal gas tragedy.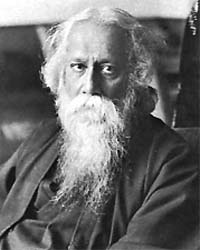 Tagore's works sell as India watches
London, June 15
Despite voices of protest in India, a set of 12 paintings by Rabindranath Tagore went under the hammer here today. The works of the Indian Nobel Laureate sold for a whopping £1.6 million, massively exceeding the pre-sale combined estimate of £250,000 at a Sotheby's auction.
Today's specials
AMRITSAR PLUS

JALANDHAR PLUS

J&K PLUS

HIMACHAL PLUS

JOBS & CAREERS

HEALTH & FITNESS

Centre, Nagas enter truce lane
June 15, 2010

BJP, JD(U) in face-saving mode
June 14, 2010

Photo with Modi annoys Nitish Kumar
June 13, 2010

Cong in tizzy as Bhopal row rages
June 12, 2010

Five held with RDX, heroin in Amritsar
June 11, 2010

Tamils will get their due, says Rajapaksa
June 10, 2010

The blame game is on
June 9, 2010

Keshub, 7 others convicted
June 8, 2010

Army suspends Major in fake encounter case
June 7, 2010

Post-regret, Canada has little new to say
June 6, 2010