PUNJAB
HARYANA
JAMMU & KASHMIR
HIMACHAL
REGIONAL BRIEFS
NATION
OPINIONS
LETTERS
BUSINESS
SPORTS
WORLD
Saturday, July 10, 2010, Chandigarh, India
Updated at 3:00 am (IST)

CBI chargesheets Punjab Speaker
Job scam: 14 others also in the dock
New Delhi, July 9


The CBI has filed a chargesheet against Punjab Assembly Speaker Nirmal Singh Kahlon and a number of present and former IAS and state cadre officers for their suspected involvement in rigging the selection of 909 panchayat secretaries during 1997-2002 when the SAD was in power.
Nirmal Singh Kahlon
CAST YOUR VOTE
Should Warren Anderson be extradited?

EDUCATION
JOBS & CAREERS
HEALTH & FITNESS
SCIENCE & TECHNOLOGY
REAL ESTATE

SPORTS & WELLNESS
Flood situation still grim in Punjab
Many affected areas await relief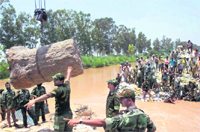 Chandigarh, July 9
Fresh moderate to intermittent showers and the failure of relief teams, especially medical teams, to reach the flood-ravaged areas, normal life in many parts of Punjab continues to remain paralysed.
Armymen struggle to plug breach in SYL canal near Jyotisar in Kurukshetra on Friday. Tribune photo: Ravi Kumar

Hooda orders 'girdawari'
Land Acquisition
Now, owners can quote price
Chandigarh, July 9
In a significant move, the Punjab Government has introduced a land purchase policy that allows the state to buy land for various projects from owners through a process of tender-based bidding. The policy, a first of its kind in India, is called the Punjab Land Purchase Policy. To begin with, it is being implemented for setting up of an urban estate in Ludhiana.
Gadkari ruffles Cong with Afzal remark
New Delhi, July 9


BJP president Nitin Gadkari again ruffled quite a few feathers, this time in the Congress by using foul language against its leaders. The Congress in turn has asked for an apology from the BJP and sought a social boycott of Gadkari. Addressing a rally in Dehradun last night, Gadkari raked up again his party's pet subject — the delay in the execution of Parliament attack accused Afzal Guru.
UNION BUDGET 2010-11
RAILWAY BUDGET
2010-11

NDA 60 Glorious Years
1857 The First Challenge
E - Revolution 2005:
A Two-day IT conclave
Assembly Elections - 2005
Turbans
Chandigarh is 50
125 Years of The Tribune
India: The Tasks Ahead
India at Sixty
A Tribune Supplement
EARLIER FEATURES
On Sundays
On Saturdays
NCP's fresh salvo: Alliance sans Cong
New Delhi, July 9


In an apparent bid to give pinpricks to major ally Congress, the NCP today announced that it would form a secular democratic front in poll-bound states like Kerala and Assam. But the NCP tied itself up in knots when it said it would protest against the Union Government of which its leader Sharad Pawar is a part.
Jagan may break away from Cong

New Delhi, July 9
Kadapa MP Jaganmohan Reddy seems to be bracing up to break away from the Congress and float a political outfit in the name of his late father and former Andhra Pradesh Chief Minister YS Rajasekhara Reddy.
Jaganmohan Reddy
First violators of RTE Act: Govt's own Navodayas
New Delhi, July 9
In a major embarrassment to the government, its own Jawahar Navodaya Vidyalayas (JNVs) today emerged as the first violators of the HRD Ministry's Right to Education Act (RTE) in the maiden year of its implementation. The schools — fully funded by the government — went ahead and conducted admissions for the current academic session on the basis of an all-India entrance test despite clear provisions in the RTE Act prohibiting screening of students at the time of admission. The RTE provides for random admissions only and explicitly bars entrance tests for students from classes I to VIII and aged 6 to 14 years.
Ambala-Delhi rail traffic hit; Hisar highway closed
July 9, 2010
Govt to use Army as 'deterrent' in J&K
July 8, 2010
Ambala afloat, Army in
July 7, 2010
Inter-caste ties behind most honour crimes
July 6, 2010
Another couple butchered
July 5, 2010
Delhi airport goes swanky
July 4, 2010
Top Maoist leader shot dead in AP
July 3, 2010
Centre to J&K : Crack whip on stone pelters
July 2, 2010
PC sees Lashkar hand in Valley
July 1, 2010
Diesel prices to be decontrolled: PM
June 30, 2010