PUNJAB
HARYANA
JAMMU & KASHMIR
HIMACHAL
REGIONAL BRIEFS
NATION
OPINIONS
LETTERS
BUSINESS
SPORTS
WORLD
Sunday, July 11, 2010, Chandigarh, India
Updated at 3:00 am (IST)

Spain vs Holland: Who'll win?
Johannesburg, July 10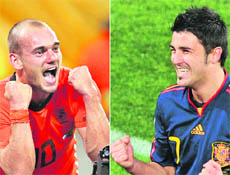 The big-name players have fallen by the wayside, leaving the Netherlands and Spain, tactically, technically and temperamentally the teams of the tournament, to face off in a World Cup final that should be one for the soccer cognoscenti.
A combination of two pictures taken during the 2010 Football World Cup in South Africa in July 2010 shows (at L) Netherlands' midfielder Wesley Sneijder and (at R) Spain's striker David Villa, both celebrating after scoring a goal. — AFP

CAST YOUR VOTE
Should Warren Anderson be extradited?

EDUCATION
JOBS & CAREERS
HEALTH & FITNESS
SCIENCE & TECHNOLOGY
REAL ESTATE

SPORTS & WELLNESS
Fresh clashes, curfew back in Valley towns
Srinagar, July 10
Curfew was reimposed in Maisuma locality of Srinagar and Sopore and Pulwama towns today after angry mobs clashed with the security forces. "Miscreants resorted to stone throwing in Maisuma, Sopore and Pulwama during curfew relaxation. So the restrictions were reimposed at these places," a senior police officer said.


Decision on Army pullout soon: CM

Farooq meets PC, seeks help
Amarnath Yatra
Fearing threat, govt to beef up security
New Delhi, July 10
Taking no chances and fearing a militant threat to the ongoing Amarnath Yatra in Jammu and Kashmir, the government has asked the security agencies to protect pilgrims during the ongoing two-month-long Amarnath yatra. Sources said intelligence inputs have emerged that militants based in Pakistan are planning to target them.


Germany Finish Third

Germany's Marcell Jansen (L) heads the ball to score against Uruguay during the World Cup third place playoff match in Port Elizabeth on Saturday. Germany beat Uruguay 3-2. — Reuters (Details on Sports page)
Marooned and neglected, these villages are in distress
Ambala, July 10
"Sri Lanka" is virtually marooned. Well, almost so. But before you think international, our Sri Lanka is just 40 km from Ambala city. It is a conglomeration of 12 villages, which have been cut off since the floods have hit Ambala.
UNION BUDGET 2010-11
RAILWAY BUDGET
2010-11

NDA 60 Glorious Years
1857 The First Challenge
E - Revolution 2005:
A Two-day IT conclave
Assembly Elections - 2005
Turbans
Chandigarh is 50
125 Years of The Tribune
India: The Tasks Ahead
India at Sixty
A Tribune Supplement
EARLIER FEATURES
On Sundays
On Saturdays
Hansi-Butana canal breach
Punjab, Haryana draw daggers
Hooda govt accuses Punjab of sabotage; latter writes to Home Ministry
Chandigarh, July 10
Haryana today virtually accused Punjab of breaching the Hansi-Butana canal and called for joint patrolling of such "trouble spots" to avoid a recurrence even as Punjab rubbished the claim and appealed to the Home Ministry to dispatch a team to assess the situation at the ground level immediately.


Blame Game


Pull of land of Scotch irresistible for MLAs
Chandigarh, July 10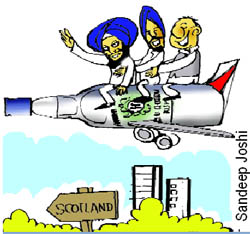 The pull of the land of Scotch whiskey is very potent or so it may seem for the Punjab Vidhan Sabha legislators. A committee of the legislators left for a study trip to Scotland today unmindful of the fact that they had been refused advance money by the Finance Department and that the Punjab Pollution Control Board (PPCB) does not support the basis of their trip.
CBI chargesheets Punjab Speaker
July 10, 2010
Ambala-Delhi rail traffic hit; Hisar highway closed
July 9, 2010
Govt to use Army as 'deterrent' in J&K
July 8, 2010
Ambala afloat, Army in
July 7, 2010
Inter-caste ties behind most honour crimes
July 6, 2010
Another couple butchered
July 5, 2010
Delhi airport goes swanky
July 4, 2010
Top Maoist leader shot dead in AP
July 3, 2010
Centre to J&K : Crack whip on stone pelters
July 2, 2010
PC sees Lashkar hand in Valley
July 1, 2010