PUNJAB
HARYANA
JAMMU & KASHMIR
HIMACHAL
REGIONAL BRIEFS
NATION
OPINIONS
LETTERS
BUSINESS
SPORTS
WORLD
Sunday, July 25, 2010, Chandigarh, India
Updated at 3:00 am (IST)

PM banks on monsoon to halve inflation
New Delhi, July 24
Prime Minister Manmohan Singh today said he expected normal monsoon rainfall this year to tame the soaring inflation. Under attack from the Opposition on price rise, he said good rains would help halve inflation to 6 per cent by December.
| | |
| --- | --- |
| | Sport Minister MS Gill with Chief Minister of Punjab, Prakesh SIngh Badal, as they attend the 55th National Development Council meeting in New Delhi on Saturday. Tribune Photo.Mukesh Aggarwal |
Controversial Gujarat minister resigns
New Delhi, July 24
The BJP appeared on a collision course with the UPA Government today after Gujarat Minister Amit Shah, a trusted lieutenant of Chief Minister Narendra Modi, resigned in the wake of the CBI charge-sheeting him in connection with the Sohrabuddin Sheikh fake encounter case.
CAST YOUR VOTE
Should Warren Anderson be extradited?

EDUCATION
JOBS & CAREERS
HEALTH & FITNESS
SCIENCE & TECHNOLOGY
REAL ESTATE

SPORTS & WELLNESS
Trouble for Kaushik as HI refers matter to police
The national federation felt that the written version of player's complaint commanded "high credibility"
New Delhi, July 24
Hockey India has gone beyond the suggestions of the five-member committee appointed by it to inquire into the sexual harassment allegation levelled by woman hockey player Ranjitha Devi against chief coach Maharaj Kishan Kaushik and recommended a stern against the latter as it "felt that the written complaint of the player commands high credibility"
1 killed, 20 injured in MIG crash
Kolkata, July 24
A MIG-27 aircraft of the India Air Force today crashed at the Mynaguri village, Jalpaiguri, about 30 Kms from Bagdogra Air Force base which caused the death of a farmer Bollen Roy (37) on the spot. Some 20 villagers were also injured, according to reports reaching the state government headquarter at Writers Buildings.
Woman helps police arrest husband
Hoshiarpur, July 24
Dasuya police today arrested Sher Singh of village Kaintha for killing his daughter Gurjit Kaur (25) and for attempt to murder Gagandeep Singh with whom she was said to have fallen in love. The arrest followed a statement by Sher Singh's wife Paramjit Kaur, confirmed the Hoshiarpur SSP Rakesh Agarwal.
UNION BUDGET 2010-11
RAILWAY BUDGET
2010-11

NDA 60 Glorious Years
1857 The First Challenge
E - Revolution 2005:
A Two-day IT conclave
Assembly Elections - 2005
Turbans
Chandigarh is 50
125 Years of The Tribune
India: The Tasks Ahead
India at Sixty
A Tribune Supplement
EARLIER FEATURES
On Sundays
On Saturdays
On way, first scientific expedition to South Pole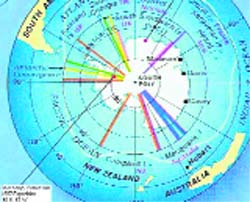 New Delhi, July 24
To commemorate the centenary of Norwegian explorer Ronald Amundsen's December 14, 1911 feat, this November India will launch its first scientific expedition to the South Pole. This was stated by Earth Sciences Secretary Shailesh Nayak yesterday. India is also on the threshold of a unique project, almost the first in the world, which will make the scientific world understand and predict earthquakes. Geographical statistics of India show that almost 54 per cent of the land is vulnerable to earthquakes.
Commonwealth Games: 70 days to go
Work through the night, orders Sheila
New Delhi, July 24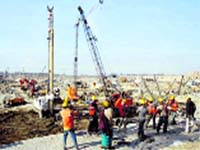 With just 70 days to go for the Commonwealth Games, Delhi Chief Minister Sheila Dikshit today pressed the panic button. Hire more labour and work through the night, directed Dikshit today at a meeting of the various agencies struggling to get their act together.
Delhi Chief Minister Sheila Dikshit has exhorted engineers in the PWD, the MCD to ensure that all construction work be completed by the end of August.
CBI charges Shah, top cops with murder
July 24, 2010
What a way to go!
July 23, 2010
Mayhem in Bihar House
July 22, 2010
With train driver dead, probe may yield little
July 21, 2010
63 dead in Bengal train collision
July 20, 2010
Maoists build a big army in Bastar
July 19, 2010
Kayani played the spoilsport
July 18, 2010
Day after, the war of words begins
July 17, 2010
India-Pak talks end in stalemate
July 16, 2010