PUNJAB
HARYANA
JAMMU & KASHMIR
HIMACHAL
REGIONAL BRIEFS
NATION
OPINIONS
LETTERS
BUSINESS
SPORTS
WORLD
Monday, August 23, 2010, Chandigarh, India
Updated at 3:00 am (IST)

Refusal would've affected resumption of talks
Gilani defends India's aid
Lahore, August 22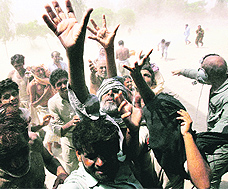 Pakistan, which agreed to accept USD 5 million Indian aid for flood victims following prod by the US, has claimed that the move has enhanced its diplomatic image since refusal would have gone against its insistence on the resumption of dialogue.

Flood survivors jostle for aid as a Pakistan military helicopter delivers relief supplies in an isolated portion of Muzaffargarh district of Punjab on Sunday. — AP/PTI

World page: Pak PM Gilani to auction suits
Highway takes a 'toll'
Pay for dug up road, diversions, slow traffic and accidents
Rajpura, August 22
The National Highway between Jalandhar and Panipat has acquired a 'bombed' look. Craters dot this stretch on NH-1, where work started in May this year to widen it to six lanes.
Click Tribune in Punjabi, Hindi New
EDUCATION
JOBS & CAREERS
HEALTH & FITNESS
SCIENCE & TECHNOLOGY
REAL ESTATE

SPORTS & WELLNESS
Army gets the flood call but no maps!
Anandpur Sahib, August 22
In a smart move the administration on Sunday called in the Army to stand by, in case people are to be evacuated from areas, which it is feared, will be flooded by water released from the Bhakra-Nangal reservoir. The 6, Sikh Regiment stationed at Chandimandir conducted a survey of the villages along the banks of the Satluj River in Anandpur Sahib today.


| | |
| --- | --- |
| | Sikh Regiment officials conduct a recce of the Sutlej river near Lodhipur in Anandpur Sahib district on Sunday. Tribune photo: Vicky Gharu |
Editorial: Rain of misery
N-Bill: Left, BJP slam govt for changes
New Delhi, August 22
Two days before it is moved in Parliament, the Nuclear Liability Bill today ran into fresh trouble with the BJP and the Left parties slamming the government for "diluting" the suppliers' liability through changes in the draft legislation.
UNION BUDGET 2010-11
RAILWAY BUDGET
2010-11

NDA 60 Glorious Years
1857 The First Challenge
E - Revolution 2005:
A Two-day IT conclave
Assembly Elections - 2005
Turbans
Chandigarh is 50
125 Years of The Tribune
India: The Tasks Ahead
India at Sixty
A Tribune Supplement
EARLIER FEATURES
On Sundays
On Saturdays
Now, shoe hurled at Hooda


Mahendragarh, August 22
A shoe was flung at Haryana Chief Minister Bhupinder Singh Hooda at the ITI ground here while he was addressing a "Samman Rally" organised by local MLA Rao Dan Singh today. Hooda seemed pleased at the large turnout and began his speech. Suddenly four youths rose from among the audience and one of them hurled a shoe at him.
GSI team to visit Leh
Chandigarh, August 22
As life limps back to normal with people coming to terms with their grave losses in the cloudburst-devastated Leh, a high level team of the Geological Survey of India has planned a visit to the area later this month to study the reasons for the unprecedented mudslides that caused more damage than the flash floods as such.
In flood-hit Leh, tourism down but not out
Last year as winters set in Leh, the town made Rs 50 crore from its vibrant tourism sector. And less than a year later, it is slogging to even keep the tourists in the town. As post the August 6 flash floods, over 5,000 foreign tourists have left Leh unscheduled. Only less than 1,000 have come in, the low count a blow to the hill district's economy.
Rain disrupts North
August 22, 2010


MPs get 300% hike, still unhappy
August 21, 2010


Badal scuttled it, says Arjun; no, it was treachery: Badal
August 20, 2010

It's all over bar the shouting
August 19, 2010

Rs 125 cr for Ladakh resurrection
August 18, 2010

Don't have heart to see more deaths...
August 17, 2010

PM steps in to clean CWG mess
August 15, 2010

300 tonne explosive missing
August 14, 2010

Now you can keep your cell number
August 13, 2010