COLUMNS

THIS ABOVE ALL
SIGHT AND SOUND
GOOD MOTORING
AUDIO SCAN
MUSIC ZONE
WEBSIDE HUMOUR

FOR CHILDREN

CROSSWORD
RHYME TIME
ROOTS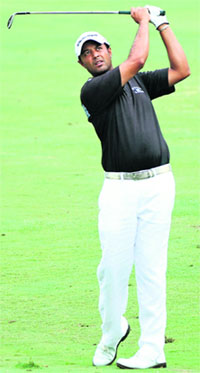 Sultan of swing
Arjun Atwal has scripted history by becoming the first Indian to clinch a US PGA Tour title, writes Donald Banerjee
Consistent long drives, oodles of patience and long practice sessions with his Orlando neighbour and buddy Tiger Woods were the main weapons in the armoury of Arjun Atwal, as he scripted golf history on the US soil, becoming the first Indian to win on the US PGA Tour. His triumph at Greensboro in the Wyndham Championship was all the more spectacular as Atwal had to qualify for the event after losing his playing rights on the world's richest turf. Atwal, who turned 37 on March 23, comes from an affluent Punjabi family, settled in West Bengal. His father, H. S. Atwal, has a booming mining business in Asansol and Kolkata. The doting father has not left any stone unturned in shaping the pro-golfing career of Arjun. Known for his long drives, Arjun brought in consistency in those long hits, matching those executed by big-hitter Ernie Els of South Africa.
Melody king at 13
Sanjay Kansal on Abhay Goyale, who has mastered the piano so well that he is considered among the best in the country
Unlike most young boys, 13-year-old Abhay Goyale is neither a cricket fan nor does he go to movies or have many friends. That's because most of his time is devoted to playing the piano. And Abhay is no novice. Even before reaching his teens, he has accompanied musicians like Jagjit Singh, Amjad Ali Khan, the late Naushad Ali, Anup Jalota, Pankaj Udhas, L. Subramanian, Kavita Krishnamurthy and many more.