PUNJAB
HARYANA
JAMMU & KASHMIR
HIMACHAL
REGIONAL BRIEFS
NATION
OPINIONS
LETTERS
BUSINESS
SPORTS
WORLD
Sunday, September 19, 2010, Chandigarh, India
Updated at 3:00 am (IST)

AFSPA not arbitrary, says Army chief
Rise in infiltration bids in past two months
Chennai, September 18


The Army today expressed hope that the government will take a "correct" decision on the Armed Forces Special Powers Act (AFSPA) which it maintained was an "enabling provision" that is not "arbitrary". In the midst of a raging debate on the application of the AFSPA in Jammu and Kashmir, Army chief General VK Singh said there were "different" opinions on the issue.
As Valley kids suffer, separatists' wards thrive in safe havens
Srinagar, September 18
While the separatists want the children of the common man to come out on the roads to protest and leave their studies for a 'bigger cause', their own children and family members are getting the best education in other parts of the country and even abroad. The Tribune has a list of some of the senior separatist leaders whose children and relatives are studying in other parts of the country or abroad.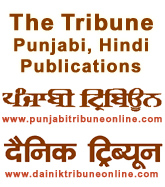 EDUCATION
JOBS & CAREERS
HEALTH & FITNESS
SCIENCE & TECHNOLOGY
REAL ESTATE

SPORTS & WELLNESS
List of outsiders in Congress ahead of Bihar poll grows
Rahul set to visit the state for the second time in September-end
New Delhi, September 18
RJD strongman Akhilesh Singh today resigned from the primary membership of his party in Patna and went public with his intentions of joining the Congress, right on the footsteps of former RJD leader and union minister Nagmani.
Salute to womanpower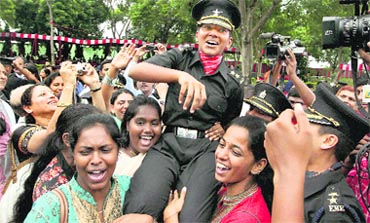 Divya Ajith Kumar celebrates with her friends after receiving the coveted 'Sword of Honour' at the Passing Out Parade of the Officers' Training Academy in Chennai on Saturday. Kumar became the first woman cadet to bag the distinction in the history of the Army. — PTI
DEBATE:

Appointing Chief Justices
New
UNION BUDGET 2010-11
RAILWAY BUDGET
2010-11

NDA 60 Glorious Years
1857 The First Challenge
E - Revolution 2005:
A Two-day IT conclave
Assembly Elections - 2005
Turbans
Chandigarh is 50
125 Years of The Tribune
India: The Tasks Ahead
India at Sixty
A Tribune Supplement
EARLIER FEATURES
On Sundays
On Saturdays
River interlinking to help ease water crisis: Bansal
Chandigarh, September 18
Three states recently signed a memorandum of understanding (MoU) on the issue of interlinking of rivers, said Union Minister for Water Resources and Parliamentary Affairs Pawan Kumar Bansal while addressing a seminar on "Water conservation and management" organised by the PHD Chamber here today.
Ayodhya case will go to SC: Advani
New Delhi, September 18
With less than a week left for the judgment on the Ayodhya title suit dispute, political leaders including BJP's LK Advani and religious bodies today renewed calls for calm and restraint underscoring that further legal options will be open and that the case will go to the Supreme Court.
Amritsar man is Argentina's Peanut Prince!
Cultivates over 12,000 hectares & hires 140 persons
Chandigarh, September 18


When first US Astronaut Neil Armstrong landed on the moon, folklore is that he bumped into some Sikhs strolling there. They told a perplexed Armstrong that they had landed there right after Partition! Similarly, an Indian delegation to Argentina led by Union Agriculture Minister Sharad Pawar, and including Punjab Deputy Chief Minister Sukhbir Singh Badal, was welcomed by a tall and handsome Sikh sporting a flashy red turban among others -- Simmarpal Singh.
No deferment of Ayodhya decision
September 18, 2010
EMIs set to go up
September 17, 2010
AFSPA dilution divides all-party meet
September 16, 2010
Hooda announces peace deal with protesting Jats
September 15, 2010
Quota rally in Hisar gets violent
September 14, 2010
Srinagar under curfew, Valley reacts violently
September 13, 2010
Rally turns violent on Eid, Kashmir tense
September 12, 2010
Wannabe doctors, try IITs
September 11, 2010
Cabinet nod to caste count in census
September 10, 2010