PUNJAB
HARYANA
JAMMU & KASHMIR
HIMACHAL
REGIONAL BRIEFS
NATION
OPINIONS
LETTERS
BUSINESS
SPORTS
WORLD
Tuesday, September 21, 2010, Chandigarh, India
Updated at 3:00 am (IST)

All-party MPs meet separatists
Delegation discusses issues with APHC leaders Geelani, Mirwaiz, JKLF chief Malik
Srinagar, September 20
As the all-party delegation led by Union Home Minister P Chidambaram listened to various delegations, groups of the visiting parliamentarians met separatist leaders Syed Ali Geelani, Mirwaiz Umar Farooq and Mohammad Yasin Malik separately here today. The historic move forward was taken even as the separatists had rejected the Central government's invitation to hold talks with the all-party delegation.

P Chidambaram, Farooq Abdullah, Pawan Kumar Bansal, Sushma Swaraj and Arun Jaitley in Srinagar. Tribune photo: Mohd Amin War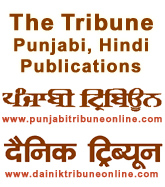 EDUCATION
JOBS & CAREERS
HEALTH & FITNESS
SCIENCE & TECHNOLOGY
REAL ESTATE
SPORTS & WELLNESS
Babri verdict
Troops deployed near airports, media barred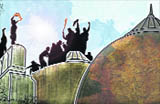 New Delhi, September 20
Electronic and the print media will not be allowed in the court when the verdict is pronounced on the title suit of the Babri Masjid on Friday this week. Lawyers representing the two sides will brief the media at the office of the District Magistrate in Lucknow and present the verdict to the nation.
3-judge HC Bench split over rejected deferment plea
Lucknow, September 20
In a curious twist to the Babri title suit judgment, one of the three judges of the Lucknow Bench of the Allahabad High Court today disagreed with the other two judges' decision to reject the plea for deferring the Ayodhya verdict.


SLP likely in SC soon
SC rejects plea, sends Sajjan on trial


New Delhi, September 20
Rejecting Congress leader Sajjan Kumar's plea for quashing the charges framed against him in a 1984 anti-Sikh riots case, the Supreme Court today vacated its stay on the trial and directed the trial court to deliver justice "as early as possible".
Accident victims left in lurch
n A goods train overshoots red signal to ram into stationary passenger express
n Liquor bottles found in station master's chamber; probe ordered
Shivpuri (MP), September 20
All Railway employees, including the Station Master of the Badarwas Railway Station in Madhya Pradesh near Guna, are reported to have abandoned their posts early on Monday morning after a goods train rammed into the stationary Indore-Gwalior Inter-City Express. Twenty passengers were killed and 50 injured, according to the Railways.
UNION BUDGET 2010-11
RAILWAY BUDGET
2010-11

NDA 60 Glorious Years
1857 The First Challenge
E - Revolution 2005:
A Two-day IT conclave
Assembly Elections - 2005
Turbans
Chandigarh is 50
125 Years of The Tribune
India: The Tasks Ahead
India at Sixty
A Tribune Supplement
EARLIER FEATURES
On Sundays
On Saturdays
Haryana village turns garbage to gold
Kurukshetra, September 20
Village refuse means money in Sanwla. That's probably why the entire village with a 1000-strong population has decided to commit itself to its total sanitation. Not surprisingly, Sanwala wears a clean and green look-no polythene bags littered in open spaces, no garbage heaps and no flies to greet visitors.
Yuvraj dropped from Oz series


Chennai, September 20
Out-of-form Yuvraj Singh was today dropped while young Saurashtra batsman Cheteshwar Pujara was selected in the 15-member Indian squad for the two-Test series against Australia, starting October 1 in Mohali. (Details on Sports page)
'Drop me and I will kill myself'
Karnataka minister threatens CM
Bangalore, September 20
Cabinet reshuffle in Karnataka mooted by Chief Minister BS Yeddyurappa has set off frantic reactions among ministers facing the axe and aspirants eying the vacancies. The most bizarre reaction has come from Sports and Youth Services Minister Gulihatti Shekar who has warned "he will kill himself if he is axed by Yeddyurappa". Shekhar is among the five Independent MLAs who provided the crucial support to the BJP for forming the first party government in 2008 when the saffron party found itself three short of having a simple majority in the 225-member strong Karnataka House.
Firing near Jama Masjid leaves two foreigners hurt
September 20, 2010

AFSPA not arbitrary, says Army chief
September 19, 2010

No deferment of Ayodhya decision
September 18, 2010

EMIs set to go up
September 17, 2010

AFSPA dilution divides all-party meet
September 16, 2010

Hooda announces peace deal with protesting Jats
September 15, 2010

Quota rally in Hisar gets violent
September 14, 2010

Srinagar under curfew, Valley reacts violently
September 13, 2010

Rally turns violent on Eid, Kashmir tense
September 12, 2010

Wannabe doctors, try IITs
September 11, 2010