PUNJAB
HARYANA
JAMMU & KASHMIR
HIMACHAL
REGIONAL BRIEFS
NATION
OPINIONS
LETTERS
BUSINESS
SPORTS
WORLD
Thursday, September 23, 2010, Chandigarh, India
Updated at 3:00 am (IST)

Rains continue to batter North, toll crosses 100
Boats ply on Delhi streets
New Delhi, September 22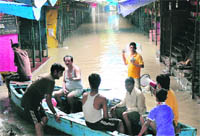 Incessant rains pouring over parts of North India since the past few days led to more areas being marooned by swollen rivers as the toll crossed 100 in the region with 14 more deaths in Uttar Pradesh today.
IT'S POURING MISERY: Local residents use a boat at the Tibetan market in New Delhi on Wednesday. The river water level has breached the danger mark again this monsoon season. Tribune photo: Mukesh Aggarwal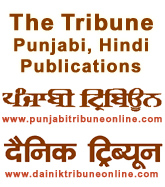 EDUCATION
JOBS & CAREERS
HEALTH & FITNESS
SCIENCE & TECHNOLOGY
REAL ESTATE
SPORTS & WELLNESS
Rain of misery for Punjab farmers
Chandigarh/Jalandhar/Bathinda, September 22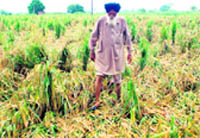 Moderate to heavy rain in Punjab today caused substantial damage to standing Kharif crops that include paddy, cotton and maize.
A farmer inspects his damaged paddy field after a heavy rain at theBanur- Rajpura road. Tribune photo: Vicky Gharu
Games gets bad name across globe
New Delhi, September 22
The uncertainty over participation of several countries in the Commonwealth Games due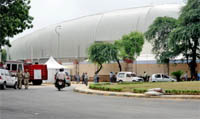 to organisers' apparent "shoddy preparedness" for the mega event became more pronounced today as several countries issued warnings to the Organising Committee to put its act together at the earliest or face their possible boycott.
The Jawaharlal Nehru Stadium
Edit page: Systemic collapse
MPs feel political solution imperative for Kashmir
New Delhi, September 22
Although the two-day visit of the all-party delegation to Jammu and Kashmir was marred by differences over meetings with the separatists, there is an overwhelming view among the MPs that the situation in the trouble-torn state requires a political solution. Home minister P Chidambaram, who was heading the delegation, is expected to brief Prime Minister Manmohan Singh on the visit before which he is expected to call a meeting of the panel members to fine-tune their observations.
UNION BUDGET 2010-11
RAILWAY BUDGET
2010-11

NDA 60 Glorious Years
1857 The First Challenge
E - Revolution 2005:
A Two-day IT conclave
Assembly Elections - 2005
Turbans
Chandigarh is 50
125 Years of The Tribune
India: The Tasks Ahead
India at Sixty
A Tribune Supplement
EARLIER FEATURES
On Sundays
On Saturdays
Panel returns leaving behind hope, anxiety
Jammu, September 22
They came, they saw, they listened, but did they conquer? Residents of the state are eagerly awaiting answer to this question as the 39-member all-party delegation left for Delhi this morning after a two-day visit to Srinagar and Jammu.
Wettest September
New Delhi, September 22
With the extended southwest monsoon rains continuing to rain misery, the September of 2010 may go down as one of the wettest months in the meteorological history of the region.
Special to the tribune
Chandigarh's heritage to be auctioned
The furniture was designed by Corbusier's cousin & architect-designer Pierre Jeanneret
London, September 22



The furniture was designed by Le Corbusier's Swiss cousin, architect and designer Pierre Jeanneret who passed away in 1967. The items are being sold by Bonhams auctioneers here as part of their Post-War and Contemporary Art and Design Sale. Bonhams confirm there have been attempts to halt the sale and question marks over the provenance of the furniture.
A clerk's desk and a chair; and (right) a magistrate's chair designed by (top right) Pierre Jeanneret

Double trouble for Games
September 22, 2010

All-party MPs meet separatists
September 21, 2010

Firing near Jama Masjid leaves two foreigners hurt
September 20, 2010

AFSPA not arbitrary, says Army chief
September 19, 2010

No deferment of Ayodhya decision
September 18, 2010

EMIs set to go up
September 17, 2010

AFSPA dilution divides all-party meet
September 16, 2010

Hooda announces peace deal with protesting Jats
September 15, 2010

Quota rally in Hisar gets violent
September 14, 2010

Srinagar under curfew, Valley reacts violently
September 13, 2010