EDUCATION
JOBS & CAREERS
HEALTH & FITNESS
SCIENCE & TECHNOLOGY
REAL ESTATE

SPORTS & WELLNESS
Manmohan pulls up Commonwealth bosses
New Delhi, September 23
In a last-ditch effort to retrieve India's prestige and esteem in organising the Commonwealth Games, Prime Minister Manmohan Singh today asked the parties concerned to pull up their socks and get going.


World page: Games an appealing target for LeT, says US



Glitches Galore


Labourers pull a hand cart loaded with bricks and sacks of sand in front of boards advertising the Games.
— Reuters
'World Statesman Award' for Manmohan Singh
New York, September 23


Prime Minister Manmohan Singh has been honoured with the 2010 "World Statesman Award" by a US-based interfaith coalition for his commitment to democracy, freedom, human rights and peace. The Prime Minister was awarded in absentia by the Appeal of Conscience Foundation. Indian Ambassador to the US Meera Shankar accepted the award on behalf of the Prime Minister at a glittering ceremony here. — PTI
Vacate J&K parts: Krishna to Pak
New York, September 23
Stating that Jammu and Kashmir is an internal matter of India, External Affairs Minister SM Krishna has asked Pakistan to end its illegal occupation of some parts of the state before advising New Delhi.


World page: Stop calling Kashmir as yours, Pak tells India
GMADA 'loses' ` 116 cr
While the boss was away, dues of a promoter reduced from ` 121 cr to ` 5 cr in a day
Chandigarh, September 23
In a major embarrassment to Greater Mohali Area Development Authority (GMADA), a housing project promoter managed to get the dues, he owed GMADA, reduced from Rs 121 crore to a meagre Rs five crore in a single day.
UNION BUDGET 2010-11
RAILWAY BUDGET
2010-11

NDA 60 Glorious Years
1857 The First Challenge
E - Revolution 2005:
A Two-day IT conclave
Assembly Elections - 2005
Turbans
Chandigarh is 50
125 Years of The Tribune
India: The Tasks Ahead
India at Sixty
A Tribune Supplement
EARLIER FEATURES
On Sundays
On Saturdays
Special to the tribune
Heritage auctioned, that too for peanuts
The sale of Chandigarh's heritage furniture fetched a miserly £10,560 (Rs 8.96 lakh) when it came under the auctioneer's hammer in London on Wednesday. The auction consisted of eight lots of furniture, including an Indian rosewood and leather desk, a teak and cane chair and library chairs, all designed by Le Corbusier's Swiss cousin and architect and designer Pierre Jeanneret.


CIA's private army in Pak to hunt Al-Qaida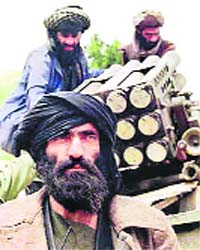 The clandestine Afghan force reportedly drawn out from private militias and armies of former warlords has been trained in CIA's facilities in the US
New York, September 23
The CIA is running a 3,000-strong covert army to hunt down key leaders of Taliban and Al-Qaida in Afghanistan and Pakistan, with US officials saying that the force is proving "highly effective".
Rains continue to batter North, toll crosses 100
September 23, 2010
Double trouble for Games
September 22, 2010

All-party MPs meet separatists
September 21, 2010
Firing near Jama Masjid leaves two foreigners hurt
September 20, 2010
AFSPA not arbitrary, says Army chief
September 19, 2010
No deferment of Ayodhya decision
September 18, 2010
EMIs set to go up
September 17, 2010
AFSPA dilution divides all-party meet
September 16, 2010
Hooda announces peace deal with protesting Jats
September 15, 2010
Quota rally in Hisar gets violent
September 14, 2010