PUNJAB
HARYANA
JAMMU & KASHMIR
HIMACHAL
REGIONAL BRIEFS
NATION
OPINIONS
LETTERS
BUSINESS
SPORTS
WORLD
Saturday, October 2, 2010, Chandigarh, India
Updated at 3:00 am (IST)

Day after the verdict
In Ayodhya, now Hindu vs Hindu
Nirmohi Akhara refutes VHP claim on temple site
October 1
A day after the verdict in Ram Janmabhoomi-Babri Masjid dispute, divisions today surfaced on an altogether new front as Hindu groups (petitioners in the case) staked their separate claims to the right of serving Lord Rama.


Nation page: Muslims bitter, rule out reconciliation

Editorial: Thank God for sobriety
Badals acquitted in corruption case
Vigilance officers to be prosecuted
Mohali, October 1
After three years of trial in the high-profile case of disproportionate assets against the Badals, Special Judge Rajinder Aggarwal today acquitted all 10 accused, including the Punjab Chief Minister Parkash Singh Badal, his wife Surinder Kaur and Deputy Chief Minister Sukhbir Singh Badal as there was no incriminating evidence against them.

RELIEVED: Punjab CM Parkash Singh Badal (L) with son Sukhbir Singh Badal.
Punjab page: End vendetta politics, says Badal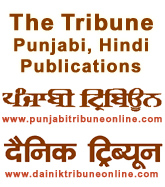 EDUCATION
JOBS & CAREERS
HEALTH & FITNESS
SCIENCE & TECHNOLOGY
REAL ESTATE
SPORTS & WELLNESS
Transfer of CD case to CBI


HC dismisses Virbhadra's plea
Shimla, October 1
The state Vigilance Department filed a challan in the audio-CD case against Union Steel Minister Virbhadra Singh and his wife Pratibha Singh in the Special Court after the High Court dismissed their petition seeking transfer of the case to the CBI here today. Virbhadra Singh

HC jolt for DLF Cyber City, Haryana govt
Chandigarh, October 1
Haryana's action of favouring DLF by acquiring land for its Cyber City project in Gurgaon today failed to click with the Punjab and Haryana High Court. Dubbing the action "an act of fraud on the public", a Division Bench not only quashed the acquisition notification of 2003, but also the conveyance deed between the state and DLF for transfer of acquired "19 acres, 4 kanals and 5 marlas in Nathupur village" in Gurgaon.


Mush returns to active politics
Launches All Pakistan Muslim League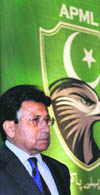 London, October 1
Pakistan's former military ruler Pervez Musharraf today announced his much-anticipated return to mainstream politics with an apology for the "political mistakes" of the last years of his regime and promised to start his career with a "clean slate". Launching his new banner — the All Pakistan Muslim League — thousands of miles away from Pakistan, the former President said he would return to his country and contest the 2013 general elections.
Pervez Musharraf during the announcement of the launch of his new party, the All Pakistan Muslim League, in London on Friday. — AP/PTI

UNION BUDGET 2010-11
RAILWAY BUDGET
2010-11

NDA 60 Glorious Years
1857 The First Challenge
E - Revolution 2005:
A Two-day IT conclave
Assembly Elections - 2005
Turbans
Chandigarh is 50
125 Years of The Tribune
India: The Tasks Ahead
India at Sixty
A Tribune Supplement
EARLIER FEATURES
On Sundays
On Saturdays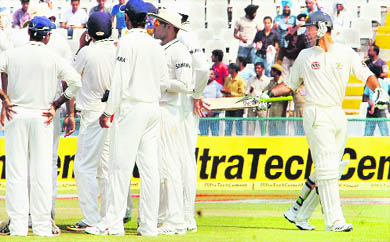 Ricky Ponting-Zaheer Khan spat dominated the first day of the first India- Australia Test in Mohali on Friday. Tribune photo: S. Chandan
Bindra to carry Tricolour at CWG opening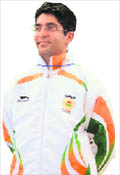 New Delhi, October 1
Beijing Olympics gold medallist and Chandigarh boy Abhinav Bindra, will lead the 619-strong Indian contingent in the opening ceremony of the 2010 Commonwealth Games at the Jawaharlal Nehru Stadium on October 3. Shooting champion Bindra was the unanimous choice for the singular honour of carrying the Indian tricolour at the head of the Indian contingent at the march past.
TODAY'S SPECIALS
Saturday Extra
REAL ESTATE

J&K PLUS

AMRITSAR PLUS

SPORTS & WELLNESS

AYODHYA HEADS TO SUPREME COURT
October 1, 2010
Nation on alert for Ayodhya
September 30, 2010
How The Seats Are Sold
September 29, 2010
Seats for sale in PGI
September 28, 2010
Almora in dire trouble
September 27, 2010
8-point initiative for Kashmir
September 26, 2010
As monsoon recedes, sun shines on CWG
September 25, 2010
SC puts off Ayodhya verdict for a week
September 24, 2010
Rains continue to batter North, toll crosses 100
September 23, 2010
Double trouble for Games
September 22, 2010