Eid-ul-Zuha: A triumph of faith, sacrifice
Tribune News Service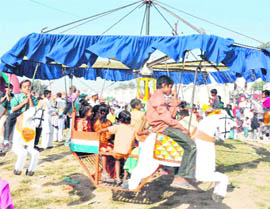 Children enjoy a ride at eidgah ground in Jwalapur, Haridwar, on Wednesday. Tribune photo: Rameshwar Gaur
Dehradun, November 17
The Muslim community in Dehradun observed the festival of sacrifice Eid-ul-Zuha with devotion. Mosques in the city today came alive early when kids and elders began congregating at the eidgah in large numbers in the morning to offer special prayers.
After the prayers, they all hugged one another, wished "Eid Mubarak", left for their homes to celebrate the festival and fulfil the ritual of sacrifice.
Dressed in crisp kurta-pyjamas, people visited the houses of friends and relatives and hugged one another.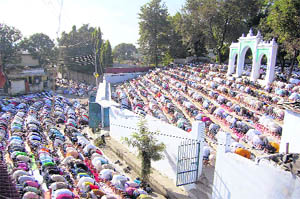 Devotees offer prayers at the eidgah
"We wished that peace be upon all of us and for the end of evil. We prayed to the Almighty to maintain brotherhood among all. After the sacrifice, meat was shared among relatives and friends. It is also the time when many Muslims undertake Haj to Mecca," said Khurram.
Since morning, Muslim-dominated areas in Dehradun saw a steady crowd of men and children going about their business with unusual robustness. The traffic too was diverted due to the prayer congregation in the morning.
Devotees throng eidgahs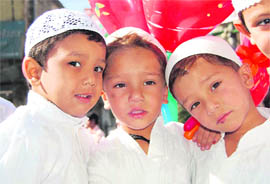 Children show off the balloons that they bought after Eid prayers in Dehradun on Wednesday. Tribune photographs
Roorkee: From early in the morning, devotees thronged eidgahs to offer prayers at the special prayer service in and around Roorkee.
"On Eid-ul-Zuha, we prayed for prosperity, solidarity and peace in the country," said Ansari.
Special prayers were offered at the Laksar Eidgah where approximate 7,000 persons got together from nearby villages and offered special prayers for the recent flood victims.
Special police arrangements had been made for the smooth and peaceful conduct of the festival.
Persons of other communities were seen wishing their Muslim brothers and their families. Children were happy collecting gifts and enjoying special delicacies.
Yesterday, goat sellers had a great time at Imli Road. "A goat of Dumba variety sold for Rs 1.2 lakh," said Irfan. It was bought by one Islam Quereshi, he added.
"On average, goats were sold at Rs 10,000 to 15,000. Amritsari and Rajasthani ones went at Rs 40,000. Though the rates were exorbitant, yet everyone bought an animal according to his pockets in the name of Allah, said Yusuf.
Goat sellers had come from Muzaffarabad, Saharanpur, Meerut and nearby villages.
Nainital wears festive look
Nainital: Eid-ul-Zuha was celebrated with traditional fervour across Kumaon on Tuesday.
People gathered at eidgahs and mosques to offer namaz following which they greeted each other. Members of other faiths also greeted their Muslim brethren on the holy occasion. Thereafter, sacrifices of the animals were made.
In Nainital, a large number of people, including tourists, dressed in their colourful best gathered at the Flats Grounds outside the Mallital mosque to pray. The entire town wore a festive look throughout the day.
Haridwar: Eid-ul-Zuha, popularly known as Bakr-Eid, was observed with gaiety in the pilgrim city with devotees offering namaz and other rituals. Prayer sessions were organised at various mosques and eidgahs and the ritual associated with sacrificing goats was performed thereafter.
Badi Eidgah and Jama Masjid situated in Jwalapur were thronged by thousands of Muslim devotees during the time of namaz.
At Jwalapur, BHEL, Kathaira Bazar, Bahadrabad, Lakshar, Roorkee, Manglore, Iqbalpur and other areas of the district, devotees prayed at the mosques in large numbers. A festive buzz could be seen in the markets from early morning.
Many persons thronged the house of Abbu Hursain to catch a glimpse of the goat he had procured at a price of Rs 1 lakh from Saharanpur. The animal weighs 165 kg and was the talk of the town, particularly in Jwalapur, where mediapersons too thronged in large numbers to get information and photos.
Elaborate security arrangements were in place to make sure the festival is observed peacefully. District Magistrate R Meenakshi Sundram and Senior Superintendent of Police Sanjay Gunjiyal monitored the proceedings with specific directions been given to the administrative authorities to be vigilant. SSP Gunjiyal, along with SP City KL Shaw, had last evening inspected the Badi Eidgah to take stock of the arrangements and preparations at the city mosques.
The legend
According to legend, it all started with a dream in which Allah directed the patriarch Prophet Ibrahim to sacrifice his son Ismail.
It was Ibrahim's faith in Allah and his son's faith in his father that were on test. Before performing the sacrifice, Ismail tied a cloth around his father's eyes. When Ibrahim opened his eyes, he found his son safe and sound. In his place, lay a dead dumba or ram.
It is in honour of this test of faith that Muslims around the world sacrifice an animal on the occasion of Eid-ul-Zuha to show their allegiance, faith and sincerity towards Allah.
In India, Muslims mainly sacrifice a goat, which is why the occasion is spoken of in Urdu as Bakhr or Bakri-Id. The festival, in a way, also marks the strong faith of those devoted to Islam.