COLUMNS



THIS ABOVE ALL

TELEPROMPT

GOOD MOTORING

LIFE'S LESSONS

LEXICON

FOR CHILDREN



CROSSWORD

RHYME TIME
Earlier Feature


TELEVISTA


AUDIO SCAN


Dawn of darkness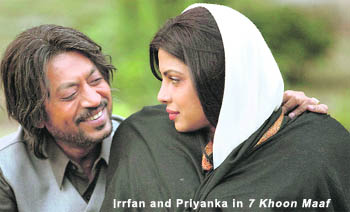 Turning their gaze on a nether world where violence is a necessity rather than a mere
source of cheap thrills, Bollywood's neo-noir storytellers are re-imagining Hindi cinema's moral landscape in exciting, if shocking, new ways, says
Saibal Chatterjee
The makeover of the Mumbai movie industry is still essentially a work in progress. In the recent times, however, neither the work nor the progress has been insignificant.
Visionary statesman
Distinguished scholar and an accomplished diplomat, Padma Vibhushan, Dr Karan Singh, continues to serve the nation. Col J. P. Singh (retd) on the multi-faceted personality,
who turns 80
Yuvraj Karan Singh was born to Maharaja Hari Singh and Maharani Tara Devi on March 9, 1931, at Cannes in France. After Maharaja Hari Singh succeeded his uncle Maharaja Partap Singh as the ruler of`A0Jammu and Kashmir in 1925, it was understood that Yuvraj would succeeded his father in due course. But it was not to be.