COLUMNS



THIS ABOVE ALL

TELEPROMPT

GOOD MOTORING

LIFE'S LESSONS

LEXICON

FOR CHILDREN



CROSSWORD

RHYME TIME
Earlier Feature


TELEVISTA


AUDIO SCAN

Vintage wheels
The second Cartier Concours d'Elegance, recently held in New Delhi, was really about style, writes H. Kishie Singh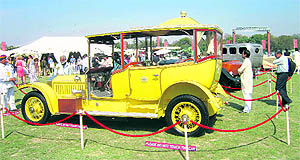 The weather gods were kind enough to provide turquoise blue skies, bright sun and a crisp cool breeze as was befitting the occasion. Add to this, the lush green grass of the Jaipur Polo Grounds in New Delhi. It made an idyllic setting for the second Cartier 'Travel with Style' Concours.

The Throne Car: A 1911 Rolls-Royce Silver Ghost Dome Roof, owned by HIH Princess Ezra of Hyderabad, won the Best Car of the Show

Life Goes On for Soha
Soha Ali Khan in conversation with Shoma A. Chatterji reveals her experience of being a part of her latest film, in which she shares screen space, for the first time, with her legendary mother
Soha Ali Khan's career takes a new turn with her significant role in Life Goes On, an English language film directed by London-based director Sangeeta Datta. Incidentally, the film had its international premiere a couple of weeks before the Indian release.
Look pretty the natural way
Use natural herbal shampoos, facials and bleaches for healthy hair and skin, says Radhika Ravi
Ayurveda is the supreme source of cosmetic aids, and all you have to do is pick and choose the correct natural herbal shampoos, facials and bleaches. As your head is where all the action is, try these ayurvedic solutions to combat the problems that affect your face eyes, nose, mouth, hair and skin.