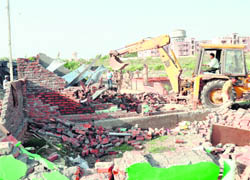 Six illegal structures demolished
Dehradun, June 3
There was a big drama at Ram Nagar, near Kedar Puram, when a team of the Dehradun Municipal Corporation (DMC) visited the spot to demolish illegal constructions. Despite strong resistance by the residents, the team managed to demolish six illegally constructed houses.

A bulldozer of the MC demolishes illegal structures at Ram Nagar on Friday. A Tribune photograph

6 killed as Scorpio falls into gorge
Dehradun, June 3
Six persons, including a child and a woman, were killed when the Scorpio, in which they were traveling, fell into a gorge on the Chakrata-Tiuni road this morning.
62 graduate from Army Cadet College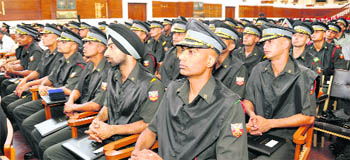 Dehradun, June 3
Sixtytwo cadets of the 97th course of Army Cadet College (ACC) were awarded degrees at a graduation ceremony held at the prestigious Chetwode Hall of Indian Military Academy (IMA) here today.

Cadets of the Army Cadet College at Chetwode Hall of the IMA on Friday. A Tribune photograph

Winner of President's Gold Medal believes in thinking big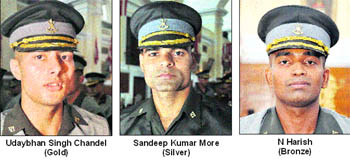 Dehradun, June 3
"Not all think of becoming officers but only those who think they become" was the crisp remark from Udaybhan Singh Chandel who bagged President's Gold Medal at the graduation ceremony of the Army Cadet College (ACC), a wing of the IMA.
Exhibition-cum-competition inaugurated
Dehradun, June 3
The End of Term Indoor Club Exhibition-cum-Competition was inaugurated by Rashmi Sujlana, wife of Lieut-Gen RS Sujlana, Commandant, IMA, here today. The competition will continue till June 11.
2 held for beating up tourist
Mussoorie, June 3
Two youngsters, who work as motor mechanics near the Kempty Falls here, were arrested after they entered into a brawl with a tourist, who suffered serious head injuries and was taken to a nearby hospital.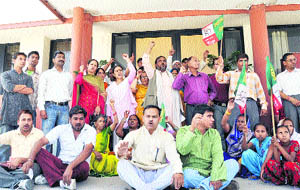 Power tariff increase opposed
Dehradun, June 3
Agitated over the hike in the tariff by the Uttarakhand Electricity Regulatory Commission, members of the Uttarakhand Kranti Dal (Panwar faction) staged a protest outside Urja Bhawan here today.

Members of the Uttarkhand Kranti Dal (Panwar faction) hold a demonstration against the power tariff hike at the headquarters of the Uttarakhand Power Corporation in Dehradun on Friday. A Tribune photograph

Shopkeepers protest against move to hike ropeway ticket prices
Mussoorie, June 3
The shop owners at Gun Hill in Mussoorie are up against the planned hike in the ropeway ticket prices that has led to the closing down of the ropeway services to Gun Hill in Mussoorie for an indefinite period from today. The shop owners raised slogans at the ticket booth site near Jhoola Ghar and protested against the proposed hike of ticket prices from previous year's Rs 55 to Rs 104, more than double this year.
Summer craft festival opens
Dehradun, June 3
To promote the creations as well as to provide artistes with a market, a unit of Madhya Pradesh Laghu Udyog Nigam Limited, Mrignayani, organised a summer craft festival at Doonga House in Dehradun, here today.
People for Animals comes to rescue of civet
Dehradun, June 3
A civet continued to be the subject of anxiety in one of the residential areas in Dehradun last night. The residents of the Lakhibagh locality in downtown Dehradun came across a civet that was venturing into their houses.
38 more challaned for traffic violations
Dehradun, June 3
A total of 95 violators were challaned during a two-day drive of the Regional Transport Office in the city.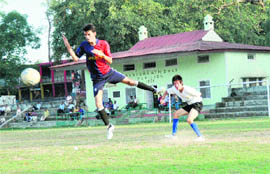 Adhoiwala Boys win 5-0
Dehradun, June 3
Adhoiwala Boys drubbed Uttarakhand Tigers 5-0 during the 60th Lala Nemi Dass Memorial District Football League at the Pavilion ground here today.



Players in action in a match in the Lala Nemi Dass Memorial District Football League in Dehradun on Friday. A Tribune photograph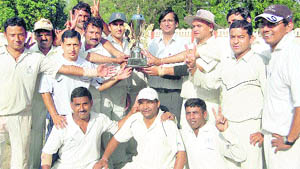 Survey of India win title
Dehradun, June 3
In the final Survey of India (SOI) beat Department of Science and Technology (DST) by 21 runs to win the title in the DST-SOI Cricket Series held here at the Survey ground here.


The Survey of India team that won the DST-Survey of India Cricket Tournament in Dehradun on Friday. A Tribune photograph