ASI prepares database of building materials used in temples
Dehradun, June 9
Preserving the past may become all the more easier with the science branch of the Archaeology Survey of India (ASI) preparing a database of building materials used in monuments and temples across the state under its upkeep.
DM's office fined Rs 45,000
Dehradun, June 9
Owing to the failure of the Public Information Office (PIO) of the Dehradun District Magistrate to provide appropriate information to RTI applicants within 30 days, it has been fined Rs 45,000 by the State Information Commission.
J&K students keen on joining Army
Dehradun, June 9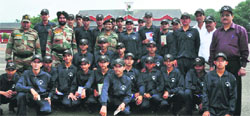 After witnessing a splendid Commandant's Passing-out Parade at the drill square of Indian Military Academy (IMA) today, all 30 students from Akhnoor, Jammu and Kashmir, had one thing in mind - to join the Indian Army.

Students from Jammu and Kashmir, who are on a goodwill visit as part of the Army's Sadbhawna campaign, after watching the IMA Commandant's parade in Dehradun on Thursday. A Tribune photograph

ASHA workers stage dharna near Secretariat
Dehradun, June 9
In support of their four-point charter of demands, Accredited Social Health Activist (ASHA) workers today marched up to the Secretariat and staged a dharna for an hour.
Class IV employees continue strike
Dehradun, June 9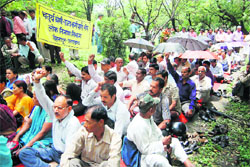 The Uttarakhand Chaturth Vargiya Rajya Karamchari Mahasangh's indefinite strike continued today at Gandhi Park here. Class IV employees working in various government departments are demanding similar fixation of grade pay and minimum wages as given to Central Government employees. They are awaiting a government order in this regard.

Class IV employees of the Uttarakhand Government hold a dharna at Gandhi Park, Dehradun, on Thursday. A Tribune photograph
Convergence programme at college has paid off
Dehradun, June 9
The convergence programme started by IIGNOU about three years ago at MKP PG College is paying off well. About 250 students who enrolled themselves in these vocational courses have got placed in good organisations successfully.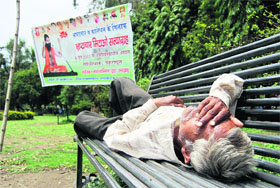 A man enjoys his siesta on a bench near a banner of yoga guru Ramdev hung in Gandhi Park, Dehradun,on Thursday. A Tribune photograph
Doon United defeat Balaji
Dehradun, June 9
Doon United defeated Balaji 2-1 during the 60th Lala Nemi Dass Memorial District Football League at the Pavilion ground here today.Lucky (15th) and Amit (66th) were the scorers for Doon United. Siddharth (10th) netted the lone goal for Balaji. Harish of United and Abhisek of Balaji were shown the yellow card during the play in the 65th and 37th minutes, respectively.
Career and guidance camp held
Mussoorie, June 9
A career and guidance camp for students was organised by the Rotary Club at Girls Inter College here today. More than 60 students from Sanatan Dharm and Mussoorie Girls Inter College participated in it with enthusiasm.
Ameens' strike continues
Dehradun, June 9
Members of the Uttarakhand Revenue Sangrah Ameen Sangh continued to hold an indefinite strike in support of their demands at the Vidhan Sabha, here today.Suresh Semwal, president of the sangh, said, "We met officials of the administration on Tuesday also and handed over to them a memorandum. The sangh workers did not accept the letter of demands sent to them by the administration as they said it didn't fulfil their demands."
Planning panel members visit cattle farm
Dehradun, June 9
Members of the Planning Commission, Government of India, Dr Soumitra Choudhury and senior adviser Prem Narayan, visited a cattle breeding farm at Kalsi and the Centre of Aromatic Plants (CAP) at Selaqui here.