Chain-snatching incidents on the rise in Doon
Dehradun, June 6
Chain snatchers have become a headache for the state capital police. In the past fortnight, five incidents of snatching have been reported in Dehradun, but the police has failed to crack any case.
Recipe book behind delicious midday meals
Dehradun, June 6
Since the launch of the midday meal programme in Uttarakhand, bhojan matas are relying on a handy booklet containing recipes for sumptuous meals.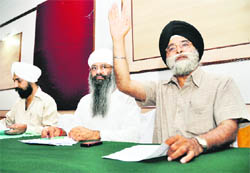 Sikh Sangat for rebuilding Haridwar gurdwara
Dehradun, June 6
National President of the Rashtriya Sikh Sangat (RSS) Gurcharan Singh Gill has reiterated the demand of rebuilding Gyan Godhari Gurdwara at Haridwar.


Gurcharan Singh Gill, president of the Rashtriya Sikh Sangat, addresses mediapersons in Dehradun on Monday. A Tribune photograph

Workshop on women empowerment begins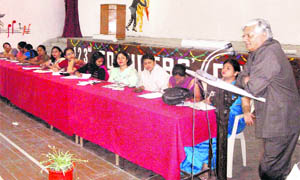 Mussoorie, June 6
A three-day workshop-cum-training programme on women empowerment for the women staff of the Northern Railway began at Oak Grove School in Jharipani, Mussoorie, today. It was inaugurated by Gopal Mishra, General Secretary of the All-India Railway Men's Federation.

Gopal Mishra, general secretary, All-India Railwaymen's Federation, speaks at a workshop on women empowerment at Oak Grove School in Mussoorie on Monday.

Medical institute gets approval for PG classes
Dehradun, June 6
The Ministry of Health, Government of India, has given permission to Guru Ram Rai Institute of Medical Sciences to conduct postgraduate courses in eight subjects from the 2011-2012 session.
Class IV employees go on strike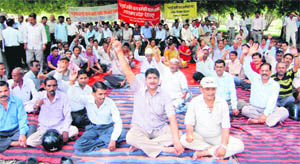 Dehradun, June 6
Class IV employees of government departments in Dehradun district went on an indefinite strike today on a call given by the Uttarakhand Chaturth Vargi Raj Karamchari Mahasangh.



Class IV employees of the Uttarakhand Government hold a dharna at Gandhi Park in Dehradun on Monday. A Tribune photograph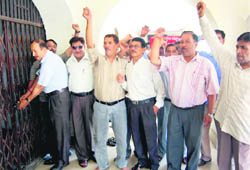 Ministerial staff continue strike
Dehradun, June 6
It seems people visiting the Dehradun Collectorate will not get respite soon and will have to return without getting their work done due to the ongoing strike by members of the Uttarakhand Ministerial Collectorate Karamchari Sangh.

Striking ministerial collectorate employees lock their office in protest against the non-fulfilment of their demands in Dehradun on Monday. A Tribune photograph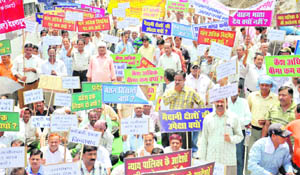 Ameen sangh submits memo on demands
Dehradun, June 6
In order to get their demands fulfilled, members of the Uttarakhand Revenue Sangrah Ameen Sangh held a procession here today.


Ameens of the Revenue Department hold a procession in support of their demands in Dehradun on Monday. A Tribune photograph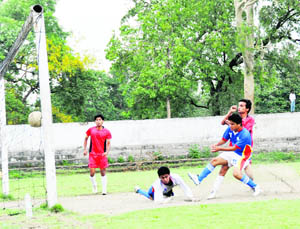 Rana fashions Doon Star victory
Dehradun, June 6
Abhay Rana scored the lone goal in the 1-0 triumph of Doon Star over Nalapani XI (Khalanga) during the ongoing 60th Lala Nemi Dass Memorial District Football League at Pavilion Ground here today.



Goal-oriented: A goal is scored in a match in the Lala Nemi Dass Memorial District Football League played in Dehradun on Monday. A Tribune photograph