Hrithik is my role model, says teenage actor
Yamini Sunwar
Tribune News Service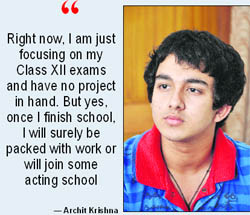 Dehradun, June 4
After winning accolades for playing the role of "Deepu" in a Rishi Kapoor and Neetu Singh's comeback Hindi film "Do Duni Chaar" two years ago, this chiselled teenage actor is ready to restart his career in acting once he completes his schooling.
Here is Archit Krishna, a 17-year-old actor, with the passion of acting in his eyes and a desire to perform like Hrithik Roshan, who is his role model.
"I adore Hrithik a lot and love to see him performing on the big screen," he chuckled.
Archit is a student of Delhi Public School, RK Puram, Delhi, and is studying humanities. He is not a trained actor but has worked a lot on stage. He had been the winner of International Children's Festival for Performing Arts, twice where 30 countries were participated and is a good debater too.
On being asked how was the working experience with Rishi Kapoor and Neetu Singh, he said: "Though, I was a bit nervous on the first day of the shoot as both actors are very senior from me and are professionals. But they never let me feel like a fresher in the industry. Working with Rishiji and Neetuji was a great fun and a learning experience for me."
"Habib Faizal, a renowned scriptwriter who had worked under the Yash Raj banner, was the director of the film who believed in me and finally made the role of Deepu happen," he added.
He loves to read fiction, epics, history and classic books in his spare time. At the same time, he feels sad that he cannot devote much time to sports and other activities due to his busy schedule.
"Right now, I am just focusing on my class XII examination and have no projects in hand. But yes, Once I finish my school, I would surely be packed with work or would join some acting school," he replied on being asked about his future projects.
Archit also feels that there is an enormous difference between acting on screen and acting on stage.
"Performing on the stage requires a lot more exaggeration of voice, emotions, gestures, expressions and a direct bond with the audiences but on the screen every single movement or miniature wink of eye is magnified through lense and then portrayed in front of the people," he quipped.
The actor who also performs plays, dramas and street plays mostly on social issues yearns to work with Amir Khan.
"I am very much touched by Amir sir's recent films and if given a chance to work with him, it would be a dream come true for me," he added.