Scientist who likes to wield the brush
Yamini Sunwar
Tribune News Service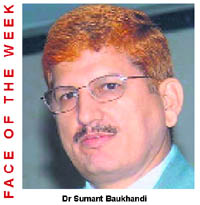 Dehradun, June 12
A renowned microbiologist and pharmacist, Dr Sumant Baukhandi, also has a passion for art and music. He has a collection of his paintings made at Aurangabad where he spent most of his childhood and at his house in Suddhowala, Dehradun.
"My father, Shambhu Prasad Baukhandi, was also a renowned artist and worked at the National Museum, New Delhi. During our vacations, he used to ask us to make paintings and drawings based on our imagination. Slowly and steadily, I developed an interest in painting and yesterday I have a substantial collection of my work, which is still to be displayed publicly," he quipped.
"It also gives me immense pleasure and delight that my father's paintings were appreciated in India as well as overseas," added Baukhandi, who paints a lot many figures, abstract and does wash-technique paintings, which is rarely practised in India.
Dr Baukhandi is currently the managing director of GMP Pharma Institute Private Limited and provides consultancy services on product development, process technology, regulatory consultancy, designing facility and developing good manufacturing products.
On being asked why he studied science when he had an inclination towards the arts, Dr Baukhandi replied, "Being a son of an artist, I inherited the streak of painting the canvas with my imagination but studying science especially microbiology was something that I always wanted to do. With a dream to become a specialist in studying micro-organism and pharmacy, I completed my PhD in microbiology from University of Pune."
Earlier, he was a professor in microbiology-genetics at the Government Institute of Science, Almora. He has also served for more than a decade at Ranbaxy as the general manager and has also occupied the post of President in Orchid Health Care, Chennai.
Having dreamt of starting his own organisation with expertise to guide pharma professional, Dr Baukhandi also runs a training centre of his own. "I always wanted to share and give back to the students what I have learnt in my life. Citing the current scenario of pharma colleges in Dehradun, I feel that these institutes should emphasis on upgrading their teaching techniques with the help of relevant and appropriate substances."
"The method of educating should be appealing to the students so that they benefit more while the faculty should try and make their complex lessons simplified as well as interesting," he affirmed.
He also provides training to college students and pharma professionals to perform system, guidance on product development, process technology, equipment selection, laboratory technology, regulatory process of submission, inspection and approval.
Dr Baukhandi, who has also been selected to be given an Indian Leadership Award for Industrial Development by the All-Indian Achievers Foundation, feels honoured. He also has special recognition to impart his knowledge on pharmacy and microbiology.
He is looking forward to open a biotechnology research centre for students especially of Uttarakhand and is planning to open a hospital soon in partnership with his brother to provide treatment in tissue culture in India. "It will be too early to say that when and where will we start this hospital but the project is likely to take shape in nearly five years from now," said Dr Baukhandi.