PUNJAB

HARYANA

JAMMU & KASHMIR

HIMACHAL

REGIONAL BRIEFS

NATION

OPINIONS

LETTERS

BUSINESS

SPORTS

WORLD


Cong divided over IMT project
Ambala, June 27
The acquisition of 1,852 acres of land in Panjokhra and five other villages close to Ambala city for setting up an industrial model town (IMT) has become a major political issue in the state. While the BJP, INLD and the HJC have been opposing it openly, senior leaders of the state Congress are divided on the issue.
Drug abuse rampant in Sirsa
Admn to launch drive
Sirsa/Fatehabad, June 27
Incidents of drug abuse are quite common in Sirsa and Fatehabad where a significant number of farmers, truck drivers as well as students are addicted to drugs.
Flood fear stalks Ambala
Ambala, June 27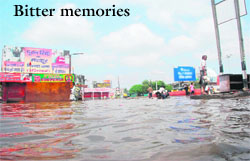 With the arrival of monsoon, the fear of flood has started gripping the people of Ambala City and Ambala Cantt as water level has already started rising in the Markanda, Tangri and Ghaggar
A file photo of a flooded road in Ambala.


Anti-encroachment drive fizzles out as police goes easy
June 24, 2011
State ahead in per capita milk availability
June 21, 2011
Multi-speciality hospital only in name
June 17, 2011
Ignoring UGC rules on VCs' appointments, Haryana style
June 14, 2011
Sirsa, Ambala take lead
June 7, 2011
Bahadurgarh units ignoring fire safety norms
June 3, 2011
Barwala becomes subdivision
May 31, 2011
State fares badly
May 27, 2011
Workers welfare board off target
May 24, 2011
Independents hold the key
May 20, 2011