Teacher's Day: Saluting these city educationists for their noble work
As the students in the holy city gear up to greet their teachers on Teacher's Day tomorrow, Amritsar Tribune team salutes three teachers who became the guiding light in the lives of their students, who, at one point of time, were merely ragpickers or children of slum dwellers for society.
Master Ajit Singh
The name, Master Ajit Singh, popularly known as Masterji, has become a synonym to a movement, A movement to combat the scourge of drug addiction that has plagued the society, especially in the border areas, in a novel way.
A government teacher by profession, Masterji took the cudgels to fight this menace through education. He along with his wife set up a school in Maqboolpura, a locality infamous for bootlegging and drug addiction, situated on the outskirts of the holy city. Started with just 21 children, the school is providing quality education to more than 500 children, all belonging to families who are victim of the drug menace.
Apart from their job as teachers, he and his wife Satpal Kaur, who is also a government teacher, are providing education to the children at Maqboolpura school in the evening. They were also conferred upon with a special award by Chief Minister Parkash Singh Badal during the Republic Day function in 2009.
With tireless efforts of Masterji and industrialist-turned-social activist Brij Bedi, the children of Maqboolpura school are now studying in higher classes and recently joined various technical institutes after clearing the Joint Entrance Test.
"This is just a beginning. We have dreamt to start a new movement to form a group from these young lads who would further guide, train and help in educating more and more children of the locality," said Ajit Singh.
"We want every child joining higher studies to contribute an hour or two for the society and the tiny tots of the locality and become torchbearers of the future generations," he pointed out.
On how they inclined towards serving this deprived section of the society, Ajit Singh said a lot of NGOs, socialites and administration were keen on helping the drug addicts by establishing de-addiction centres, but seldom did they spare thought for their families, who were constant sufferers, for no fault of theirs. — PK Jaiswar
Sardara Singh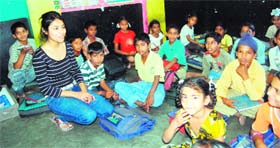 Sardara Singh teaches students at Nishikaam Sewa Public School in Amritsar. Photo: Vishal Kumar
Their journey from scavenging the city garbage to the keyboard of a computer was the outcome of Sardara Singh, who has shown guts to transform the lives of ragpickers' children in the holy city.
A retired FCI employee, Sardara Singh, now 64, took the initiative to teach these underprivileged children from the ragpickers' colony. Now, 15 years down the line, there exists Nishkaam Sewa Public School, being run from a temporary shed in the Ram Bagh area. With the initial strength of 10 children in 1996, the school today has over 175 children, from nursery to Class X. It is affiliated with the Punjab School Education Board and children are taught by a small group of "paid" teachers.
After his repeated efforts, he was able to convince the district administration and was allotted a portion of the Civil Surgeon's office building, just adjacent to the original location of this school.
Elated to see his students grow, Sardara Singh said he was determined to change the course of their destiny, despite all odds in initial days. Despite being a man having limited sources and family responsibilities, he took voluntarily retirement and pumped in the part of money he got as retirement benefits to his mission. Sardara Singh then approached the ragpickers to face another tough challenge "to convince them that how far education could help change their children's fate". "They used to throw stones at me. But I continued holding classes in their colony and gradually they started sending their children to my class. Isn't it a success," he quips.
It is all due to his endeavour that the daily schedule of the likes of nine-year-old Luxmi and her two-year-old brother Karan has changed. Their morning destination has now been changed from the railway lines to attending morning classes at Sardara Singh's classroom. "I want to be a teacher," said Luxmi. Yet, Akash (15), has somewhat different priorities. Due to acute financial crunch back home, he still has to rummage the garbage bins of the city, yet his vision is clear. "I want to be a doctor and for that matter, I make it a point not to miss my classes," he said while searching reference material for a science project, he is working on. — GS Paul
Pearl Jasra



Pearl Jasra teaches students in Amritsar. Photo: Vishal Kumar
In her mid-20s, Pearl Jasra is a "self-made" teacher, who has turned her residence into a school to facilitate education to children from economically weaker sections of society. At present, she is teaching over 120 children aged between four to 16 years. Most of them come from slum areas located near her house on Majitha Road. She has converted rooms of her house into classrooms. Her school also has children who have been abandoned by their mothers.
Pearl's own tragic background has taught her to help the downtrodden. She lost her mother when she was 12 and her father soon after. She experienced the emotional pangs at a very tender age, which made her strong mentally to face the challenges of life with guts. At that tragic time her family maid, Krishnaji, lent her emotional support. Once she returned with Kamini, an adopted child, who was only a piece of "starved flesh". Little Pearl tended to, fed and caressed Kamini with love, who eventually returned to life.
Subsequently, Kamini brought with her many of her friends, who would land at Pearl's house everyday for a bit of education and fun. Thus, it led Pearl to start teaching and taking care of these students.
It has been seven years since then and today from a bunch of about 20 children the strength at her school has now crossed 120. With her limited resources, she has successfully persuaded some affluent families of the city to financially support children's education. She was denied monetary assistance under the Sarv Shiksha Abhiyan, despite fulfilling all criteria nearly three years ago. However, it did not deter her from going ahead. Under the abhiyan she was eligible for annual grant of Rs 14 lakh.
Over the years, Pearl has moved ahead as she now also grooms her students, drawn from economically weaker sections of the society like construction labourers, dish washers, rickshaw pullers and others, to become financially self-sufficient. Children's love for animals is well-known. However, she has turned this liking into a vocation. Her students go to houses to take care of pets and earn monthly Rs 200 per pet. Her organisation, Initiative for Viable Education (IVE), is holding exhibition of products like phulkari, paper bags, show pieces and others prepared by her students and their mothers, who are working as maids. At present, her stress is on developing communication skills among her students to employ them in avenues like hospitality and retail sectors. — Neeraj Bagga