Himalaya Day
Separate policy for hill region sought
Tribune News Service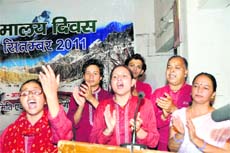 A group sings a song at a Himalaya Day function in Dehradun on Friday. A Tribune photograph
Dehradun, September 9
On Himalaya Day today, social activists demanded a separate policy for the Himalayan region keeping in mind its unique geography and environment. "The region should be given due recognition for its uniqueness and a separate policy should be framed that addresses the issue of rights of people on their resources and also addresses the issue of 'jal, jungle and jamin'," said Suresh Bhai, a social activist.
Senior Congress leader Suryakant Dhasmana said instead of declaring Uttarakhand a herbal sate, power state, etc, the government should try to address the problems of the people.
He said the Congress President, Yashpal Arya, had promised the social activists that their suggestions would be incorporated in the party's manifesto.
The social activists have been raising the demand for a separate Himalayan policy for the entire region, and to this effect a meeting was held early this year in which members from Himachal Pradesh, Jammu Kashmir, Assam and other north-eastern states participated to draft a common policy for the Himalayan region.
The members also released the draft of the people's policy for the Himalayan region along with Uttarakhand Janmat.
The Uttarakhand Janmat or people's declaration calls upon political parties to take into consideration the views of the people while taking decisions on resources. The Uttarakhand Janmat calls for drafting a state-specific Panchayat Raj Act, Women's Policy and proper utilisation of funds allocated to the MLAs.
Earlier, the members took out a procession from Gandhi Park to Hindi Bhawan in support of their demands.
The organisations that participated in the rally under the banner of the Himalayan Unity for Movement included the Himalayan Environment Studies and Conservation Organization (HESCO), Mahila Samakhya, Himalayan Environment Studies Organisation, Aagaz Federation, Sanchar, Self-Help India and other organisations.
Meanwhile, the Forest Research Institute, Dehradun, today celebrated Himalaya Day. At a function held at the Institute, Officiating FRI Director VRR Singh spoke on the importance of conservation of the Himalayas. He said the day was important to sensitise society towards the key role of the Himalyas in the environment conservation.
Chief Conservator of Forests Rakesh Shah (Wildlife) spoke on the rich biodiversity of the Himalayas. Scientist Subash Nautiyal emphasised the natural resources in the Himalayas. Dr Luxmi Rawat also spoke.